Luis Legaspi
Study Abroad Advisor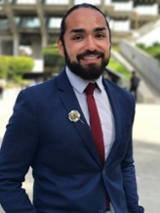 9500 Gilman Dr
La Jolla , California 92093
Advising

Countries

Majors
Communications
Critical Gender Studies
Ethnic Studies
Latin American Studies
Literature
Philosophy
Chicano/a and Latino/a Arts and Humanities (CLAH)
First time meeting Luis? Please schedule an appointment by calling our office at (858) 534-1123 or stopping in at our front desk Monday-Friday 9 a.m–4 p.m.
Biography

Luis Legaspi is a native of Sacramento who graduated from UC Davis with a degree in Textiles and Clothing, with an emphasis in Marketing. Luis's career was shaped by study abroad through three different study abroad experiences, a yearlong study at the University of Melbourne in Melbourne Austraila, a summer-length faculty-led program in India, and a semester at Bocconi University in Milan, Italy. Luis continues to explore and travel regularly domestically and around the world for work and pleasure. 

Luis works on promoting access to higher education and international education to all populations. Luis is actively engaged with the international education professional community through presentations and participating in committees relating to diversity, equity, and inclusion with Diversity Abroad, The Forum on Education Abroad, NAFSA, and the University of California Education Abroad Program.  Luis is interested in systemic change in the field of international education and how to make the field more inclusive for broad student populations and for professionals in the field. Luis has recently participated and completed NAFSA Academy Class 13 and has been working in education abroad for the past four years.

Luis enjoys biking, swimming, running, practicing yoga, reading, and spending time with family and friends. Luis is actively involved with the LGBT and Chicanx/Latinx community on campus and in the community.