Modernism and Design: The Bauhaus Experience
Weimar, Germany
Academic Excursions
Dessau
The second "home" for the Bauhaus School, its iconic building designed by Walter Gropius will offer GSB students the opportunity to learn more about the International Style of modern architecture.
Berlin (3-4 day excursion)
The third home for Bauhaus, Berlin today is in the midst of an explosive construction boom. Berlin as a city is an unparalleled learning laboratory for exploring how politics and economics shape city form and design.
This building contains a scale model of Berlin along with a reconstruction of city planning under the former government of East Berlin. It contains rich displays and published materials in both English and German. These numerous interactive exhibits and materials highlight the evolution of the city's growth and development.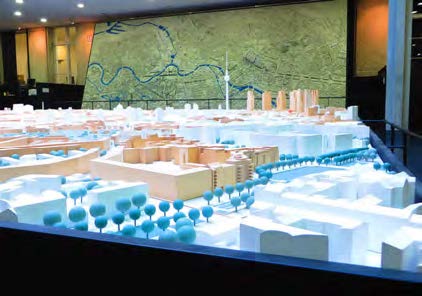 Walking Tour – East to West Berlin
We will schedule a walking tour traversing from East Berlin to West Berlin to look at how the built form represents the changes and contradictions of Modernity.
We will spend time considering the planning and design of this seat of government including an analysis of Sir Norman Foster's extensive redesign of the Reichstag as well as the symbolic legacy of the former Berlin Wall which splits the site.
Architectural and Design Innovations
We will visit and discuss changes in the 20th and 21st century architectural landscape in Berlin including Hans Sharoun's Berlin Philharmonic, LeCorbusier's Unite d'Habitation, Gropius' Bauhaus Archive, Rem Koolhaas' Netherlands Embassy, and Daniel Libeskind's JewishMuseum.
Buchenwald
In the hills above Weimar lies one of the monuments to the horrors of Nazi Germany, the concentration camp of Buchenwald. Students will develop a deeper understanding of Germany's political trajectory (and the reasons why the Nazis closed Bauhaus) by taking a docent led tour at this site.
Erfurt and Jena
These are examples of small shrinking cities that are struggling to redefine themselves and enlarge their population base.
Leipzig
This city serves as an exemplar of current trends and challenges in European urbanism as it represents a city that has experienced many "successes" in planning and development.
Excursions are subject to change without prior notice. No refunds are possible.