Crowdfunding
Raise money by using social media and crowdfunding sites.

Crowd funding is a great way to raise money for your study abroad experience. Set a funding goal, reach out to friends and family, thank them in your own special way, and get one step closer to financing your program abroad. There are many crowd funding sites to choose from, so read the details carefully, and find the best fit for your funding needs.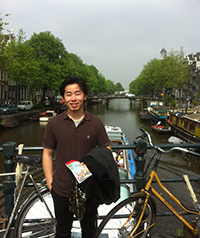 "In regards to studying abroad, my greatest obstacle and discouragement was affordability. For years, my 'I can't afford it' attitude deterred me from pursuing my long-felt aspiration to travel and learn abroad. However, with the rise of new financial avenues such as crowdfunding, I explored and exhausted every source of funding at my disposal. With the help of scholarships and generous donations to my crowdfunding page, I successfully raised over $4,500 which covered a substantial amount of travel and boarding. My study abroad experience was undoubtedly one of the best decisions I have made in college, in part thanks to taking advantage of free and accessible platforms such as crowdfunding." 
-James Troung, UCEAP Sciences Po, Paris, France (Photo taken in Amsterdam, the Netherlands)
---
Indiegogo

UCEAP has partnered with Indiegogo to help you meet your additional funding needs for your upcoming study abroad experience. Indiegogo is a crowd-source funding site used by people all over the world to help fund ideas into reality.
Be a part of the initial group of UC students to use Indiegogo!
Steps to Begin
Sign up to "Start Your Campaign":

 

https://www.indiegogo.com/accounts/sign_up
Read through "How It Works":

 

https://www.indiegogo.com/learn-how-to-raise-money-for-a-campaign
Be sure to read through the Indiegogo Playbook for details about how the campaign works, including details about minimal fees:

 

http://go.indiegogo.com/playbook
Keep your goal moderate (<$1000) as you will not be able to modify your funding goal once you launch your campaign
Spread the word to family, friends, and anyone passionate about studying abroad
Some Tips
1. Personable campaigns with videos and photos usually raise more than campaigns without videos and photos
2. Keep funders updated
3. Offer perks (postcard, handwritten thank you note, souvenir from abroad)
4. Read this article for tips on making your campaign a success!

 

http://www.crowdclan.com/crowdfunding-metrics-the-30-rule/
5. Contact the UC representative at Indiegogo for a review of your campaign and feedback: Alisa Cordesius

 

alisa@indiegogo.com
---
More Crowdfunding Options
The Study Abroad Office has partnered with FundMyTravel as another option for students to create fundraising pages online. Read these fundraising tips to learn how to make your campaign successful.