Screening New Zealand: Cinema, Globalization, and CAT

Please Note
The location for this program has shifted from Wellington to Auckland, New Zealand because of a housing shortage in Wellington.
Overview
FACULTY LEADER
Phoebe Bronstein
pbronstein@ucsd.edu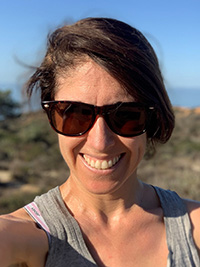 Dr. Bronstein is the Director of Academic Programs in Sixth College and an Associate Teaching Professor in the Culture, Art, and Technology Program. She most often teaches classes on media history, race, and gender and her research focuses on intersections of race, gender, and place in American TV.  Even though she studies American TV, she is an avid watcher of New Zealand murder mysteries and has been waiting for an excuse to teach about and travel in New Zealand. When not teaching or watching TV (obviously for work), you might find her walking and hiking all over San Diego. She has lived all over the US and loves to travel (when she was in college, she studied abroad for a year in England through EAP!) and is a big believer in study abroad.
ACADEMIC FOCUS
WHY YOU SHOULD GO
This Global Seminar will be centered in Auckland, New Zealand. Auckland is an exciting city, full of cultural history, and a hub of film culture, eco-tourism, and a meeting point of diverse stories of travel from around the world. As part of the course, we will traverse a volcano, visit Hobbiton, and have the opportunity to visit the Mitai Māori Village and later learn about Māori history and storytelling. We will also get to visit film sets, film studios, and even attend the Auckland Film Festival. 

We will spend ample time walking and wandering around Auckland and learning about topics ranging from Maori filmmaking and how film history is made and preserved, to understanding the ins and outs of environmental tourism . If you love to hike, talk about travel, watch movies, and have ever wanted to check out New Zealand, then you should join us!
WHO SHOULD GO
This Global Seminar is for those interested in engaging with media studies and histories, travel writing, hiking, and wanting to fulfill their GEs. Lovers of movies (and especially Lord of the Rings) and anyone curious about global Hollywood industries should join us! This program fulfils Sixth College GEs (including CAT 125) and includes an upper division literature course.
Information Sessions
Wednesday, January 25, 5:00 - 6:30 pm
Register here

 

for the 

live Zoom link, and/or to get the post-session recording.
DATES
Departure from U.S.:
Sat., July 1, 2023
Arrival:
Sun., July 2, 2023
Mandatory Orientation:
Mon., July 3, 2023
First Day of Class:
Tues., July 4, 2023
Last Day of Class:
Fri., August 4, 2023
Departure for the U.S.
(or personal travel):
Sat., August 5, 2023
ARRIVAL INFORMATION
Do not purchase plane tickets

until the program is confirmed. All approved applicants will be notified by e-mail when the program has been confirmed by reaching minimum enrollment. 

Because of the evolving COVID-19 situation, when you do buy tickets, we strongly encourage you to purchase refundable plane tickets or flight cancellation insurance.

Consider purchasing carbon offsets for your flight through your airline.

Arrival instructions will be posted here once the program is confirmed.

The Study Abroad Office will be hosting several flight workshops to provide tips and advice on flight purchases. Check the Study Abroad Calendar for more information.

Our overseas partner requires that all students be fully vaccinated against COVID-19 in order to participate in this program. The provider will request verification during the pre-departure process. No refunds will be given for failure to comply.