Twentieth Century World History in Berlin
Program full for summer 2022
We hope to offer this program again in a future summer.
Overview
FACULTY LEADER
Patrick Patterson
patrickpatterson@ucsd.edu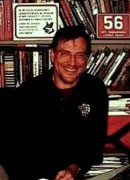 Patrick Patterson has been teaching at UC San Diego since 2001, first for the Making of the Modern World program at Eleanor Roosevelt College, and more recently as a member of the History Department. His research focuses on the history of 20th-century Eastern Europe and the Balkans, with major emphases on everyday life and consumer culture and on the interplay of Islam, Christianity, and secular society. He teaches courses on everyday life under authoritarian rule, Islam and immigration in contemporary Europe, Americanization and anti-Americanism, law and religion, and the international law of war crimes and genocide. He received his Ph.D. in History from the University of Michigan, a J.D. from the University of Virginia, and an A.B. in Religion from Princeton University.
ACADEMIC FOCUS
WHY YOU SHOULD GO
Few other cities on the globe offer such a rich and multi-layered past as Berlin. We will explore late 19th and 20th century history through extensive visits to Berlin's many museums and historical sites. We will get to experience Berlin's many diverse neighborhoods and local cultures. Berlin also has an extremely lively cultural scene with (English language) movie theaters, open-air concerts, art galleries, and theaters. This program will also consider everyday life under dictatorship. Because the city was the site of two of the most oppressive versions of authoritarianism in the Nazi years and under communist rule, there is simply no place better than Berlin for presenting this historical material. The hard and cruel experience of life in authoritarian Berlin is never too far away for anyone living in the city.
WHO SHOULD GO
Eleanor Roosevelt College students can fulfill their MMW 15 GE requirement, and regional specialization if their region is Europe. 
Warren College students can fulfill 1 Program of Concentration requirement or 1 Area Studies requirement or 1 Upper-Division Non-Contiguous requirement (refer to Warren Academic Advising Office for more information).
Information Sessions
Tuesday, Jan. 18, 3:00 - 4:30 pm
Register here

 

for the 

live Zoom link, and/or to get the post-session recording.
DATES
Departure from U.S.:
Sat., July 30, 2022
Arrival:
Sun., July 31, 2022
Mandatory Orientation:
Mon., Aug. 1, 2022
First Day of Class:
Mon., Aug. 1, 2022
Last Day of Class:
Fri., Sept. 2, 2022
Departure for the U.S.
(or personal travel):
Sat., Sept. 3, 2022
ARRIVAL INFORMATION
Do not purchase plane tickets

until the program is confirmed. All approved applicants will be notified by e-mail when the program has been confirmed by reaching minimum enrollment. 

Because of the evolving COVID-19 situation, when you do buy tickets, we strongly encourage you to purchase refundable plane tickets or flight cancellation insurance.

Consider purchasing carbon offsets for your flight through your airline or the CEPA Foundation.

Arrival instructions will be posted here once the program is confirmed.

The Study Abroad Office will be hosting several flight workshops to provide tips and advice on flight purchases. Check the Study Abroad Calendar for more information.

Our overseas partner requires that all students be fully vaccinated against COVID-19 in order to participate in this program. The provider will request verification during the pre-departure process. No refunds will be given for failure to comply.