Overview
FACULTY LEADER
Geoffrey Cook
gwcook@ucsd.edu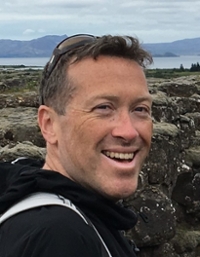 Geoffrey Cook is an Associate Teaching Professor in the Geosciences Research Division at Scripps Institution of Oceanography, UC San Diego. Prof. Cook's research background is in volcanology, although he has broad interests in geology and Earth science. He teaches a wide variety of classes in the Earth Sciences major, including introductory geology, mineralogy, volcanology and numerous freshman seminars. He has had a life-long obsession with minerals, rocks, and volcanoes that began when he was young. Prof. Cook's real passion is teaching and undergraduate education. He thoroughly enjoys working with students, especially if volcanoes are involved. He is also highly enthusiastic about UC San Diego Global Seminars, having led successful programs in Auckland, New Zealand (2017), Geneva, Switzerland (2018), and Reykjavik, Iceland (2019). He received the Scripps Institution of Oceanography Undergraduate Teaching Award in 2011, the Sixth College Outstanding Faculty Teaching Award in 2012, and the 2018 UCSD Panhellenic Chapters Outstanding Professor Award.
ACADEMIC FOCUS
Why you should go
This Global Seminar will focus on Earth science and geology in the Swiss Alps—a truly amazing and spectacular region. Switzerland is host to incredible natural beauty, including towering mountain peaks, majestic glaciers, massive waterfalls, pristine mountain lakes, and more. Switzerland is also one of the most livable and modern countries in the world, consistently ranking highly among travelers and residents alike. Bern, the Swiss capital city, is a beautiful, city with a great mix of new and old-world culture (Bern's historic old-town in the city center is a UNESCO world heritage site). Bern is centrally-located and a wonderful base from which to explore the region. Weekly field trips are an integral part of the program and will give students a true field‐based education in the geology of Europe. Students will walk around the base of the iconic Matterhorn (near Zermatt), visit the longest glacier in Europe (the Aletsch), explore the Lauterbrunnen Valley and Bernese Alps around Interlaken, and much, much more!
Who should go
Anyone! Students need no background; the classes have no prerequisites. Students who have an interest in science and nature, and who have an interest in travelling to see a beautiful and inspiring place should apply! Both classes in this seminar may be able to be used as general education courses (natural science requirements) in most of the colleges. SIO 121GS Geology of the Alps may also count as upper division credit in the Earth Science and ESYS-Earth majors, and can be petitioned to count as credit towards a number of other majors. Consult your academic advisor to determine officially how the courses will apply to your graduation requirements.
DATES
Departure from U.S.:
Sat., June 26, 2021
Arrival:
Sun., June 27, 2021
Mandatory Orientation:
Mon., June 28, 2021
First Day of Class:
Mon., June 28, 2021
Last Day of Class:
Fri., July 30, 2021
Departure for the U.S.
(or personal travel):
Sat., July 31, 2021
ARRIVAL INFORMATION
Do not purchase plane tickets

until the program is confirmed. All approved applicants will be notified by e-mail when the program has been confirmed by reaching minimum enrollment. 

Because of the evolving COVID-19 situation, when you do buy tickets, we strongly encourage you to purchase refundable plane tickets or flight cancellation insurance.

In order for our local partner to meet you at the airport, your flight must arrive at Zurich Airport (ZRH) during daylight hours on Sunday, June 27. Students who arrive outside the pick-up window will receive instructions on how to make their way to program housing independently.
The Study Abroad Office will be hosting several flight workshops to provide tips and advice on flight purchases. Check the Study Abroad Calendar for more information.