Overview
FACULTY LEADER
Bill Geibel
wgeibel@ucsd.edu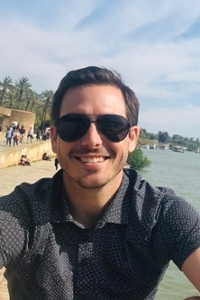 Trained in both education and political science, Bill Geibel is a scholar-practitioner of experiential learning, global education, and civic engagement. His research is focused on understanding universities as political actors and the ways in which they prepare students to be engaged and diplomatic citizens, both within and beyond national borders. This interest is also at the heart of his teaching and administrative work, as he has developed numerous educational initiatives that seek to bridge theory and action, including programs and courses in community engagement, service-learning, global studies, career development, and intercultural communication. Whether it be through classroom teaching, designing experiential learning programs, or publishing research, his ultimate goal is to help students expand their awareness of the world, locate their agency within it, and take an active role in creating the future they want to see. 
ACADEMIC FOCUS
CAT 124RS: Internships in Dublin: Critical Inquiry and Professional Success (PDF draft syllabus)
CAT 125RS: Navigating a New Country: Communication and Rhetoric in a Globalized World (PDF draft syllabus)
WHY YOU SHOULD GO
This unique Global Seminar provides students with a comprehensive academic, professional, and cultural experience in one of Europe's most vibrant cities. Students will be placed into internships that complement their interests. While working as interns, students will take two remote courses that fulfill their Upper Division GE requirements: CAT 124RS and CAT 125RS. These classes are designed to prepare students for academic and professional success in a globalized world and will cover topics such as intercultural communication, globalization, professionalism, identity, global citizenship, and sustainability. Outside of class, the city will be your textbook as you take advantage of all Dublin has to offer through excursions to historical sites, museums, and other local attractions. If you love to explore different cultures, are interested in global ideas and perspectives, or want professional experience abroad, then join us.
WHO SHOULD GO
This Global Seminar is for all students who interested in exploring what it means to live in a globalized world and are curious about international perspectives and cultures. It is also for students wanting to gain professional experience and develop the communication, critical thinking, and professional skills that will make them stand out in their respective fields. Those who are fascinated by different cultures, intrigued by new ideas and perspectives, or who are looking to grow as young professionals will all find a place within this program. 
Information Sessions
Wednesday, Feb 1 at 3:00 - 4:30 pm

Register here

for the live Zoom link, and/or to get the post-session recording.
DATES
Departure from U.S.:
Sat. July 1, 2023
Arrival:
Sun., July 2, 2023
Mandatory Orientation:
Mon. July 3, 2023
First Day of Class:
Mon. July 3, 2023
Last Day of Class:
Fri. Aug 25, 2023
Departure for the U.S.
(or personal travel):
Sat. Aug 26, 2023
ARRIVAL INFORMATION
Do not purchase plane tickets

until the program is confirmed. All approved applicants will be notified by e-mail when the program has been confirmed by reaching minimum enrollment. 

Because of the evolving COVID-19 situation, when you do buy tickets, we strongly encourage you to purchase refundable plane tickets or flight cancellation insurance.

Your flight must arrive at Dublin (DUB) at the time specified by your advisor, in order to take advantage of airport pick up. Students who arrive later than this time will receive instructions on how to make their way to your program housing independently. 
Consider purchasing carbon offsets for your flight through your airline.

Our overseas partner requires that all students be fully vaccinated against COVID-19 in order to participate in this program. The provider will request verification during the pre-departure process. No refunds will be given for failure to comply.