Revelle in Edinburgh

Overview
FACULTY LEADER
Antony Lyon
alyon@ucsd.edu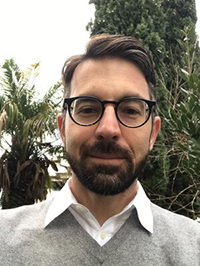 Antony Lyon, Director of Revelle College's Humanities Program, has taught at UC San Diego since 2010. He teaches all five courses of the Humanities sequence and enjoys the program's multidisciplinary approach to the humanities. He studied political science at UC San Diego and loves Stoicism and contemporary poetry. In recognition of his teaching, he received UC San Diego's Saltman Distinguished Teaching Award in 2019. He has traveled in the United Kingdom throughout his life, returning frequently to visit family.
ACADEMIC FOCUS
WHY YOU SHOULD GO
Often referred to as "the Athens of the North" because of its rich intellectual tradition in the arts, humanities, and sciences, Edinburgh is the second most visited city in the United Kingdom after London. Robert Louis Stevenson, a native son, wrote: "Edinburgh is what Paris ought to be." Edinburgh lies on the eastern coast. A medium-sized city with half a million people, it is a mix of natural features, such as Arthur's Seat; a long political history, best reflected in the Royal Mile stretching from Holyrood Palace up to Edinburgh Castle; and a thriving contemporary city as the capital of Scotland.
WHO SHOULD GO
Revelle College students can fulfill two Humanities requirements through this program. Warren College students may be able to fulfill one Programs of Concentration requirement or one Area Studies requirement or one Upper-Division Non-Contiguous requirement (refer to Warren Academic Advising Office for more information).

Information Sessions
Tuesday, Jan. 11, 3:00 - 4:30 pm
Register here

 

for the 

live Zoom links, and/or to get the post-session recording.
DATES
Departure from U.S.:
Sat., June 25, 2022
Arrival:
Sun., June 26, 2022
Mandatory Orientation:
Mon., June 27, 2022
First Day of Class:
Tues., June 28, 2022
Last Day of Class:
Fri., July 29, 2022
Departure for the U.S.
(or personal travel):
Sat., July 30, 2022
ARRIVAL INFORMATION
Do not purchase plane tickets

until the program is confirmed. All approved applicants will be notified by e-mail when the program has been confirmed by reaching minimum enrollment. 

Because of the evolving COVID-19 situation, when you do buy tickets, we strongly encourage you to purchase refundable plane tickets or flight cancellation insurance.

Consider purchasing carbon offsets for your flight through your airline.

In order for our local partner to meet you at the airport, your flight must arrive at Edinburgh Airport (EDI) within the pick-up window specified during the pre-departure process. Students who arrive outside the pick-up window will receive instructions on how to make their way to program housing independently.

The Study Abroad Office will be hosting several flight workshops to provide tips and advice on flight purchases. Check the Study Abroad Calendar for more information.

Our overseas partner requires that all students be fully vaccinated against COVID-19 in order to participate in this program. The provider will request verification during the pre-departure process. No refunds will be given for failure to comply.