Overview
FACULTY LEADER
Nina Zhiri
ozhiri@ucsd.edu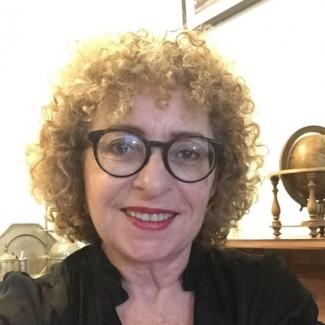 Nina Zhiri is a Professor of French Literature. In 1992, Nina Zhiri came from her home in Rabat, Morocco, to San Diego as a new faculty member in the Literature Department at UC San Diego. Her research and teaching interests are in French literature, Arabic literature, Early Modern culture, European and Arabic travel literature and geography, Comparative studies in European and Arab cultures, and Orientalism. Nina Zhiri is delighted to lead students as they discover "Spanish Memories, African Hopes Through literature and Film" in Granada, Spain.
ACADEMIC FOCUS
LTAF 120GS: African Literature: Islam and Migration (PDF draft syllabus

coming soon

) 
MMW 14GS: Revolution, Industry and Empire (PDF draft syllabus coming soon)
WHY YOU SHOULD GO
A Mexican diplomat/poet living in Spain at the turn of the 19th century famously wrote: "Give him alms woman, for there is nothing in life like the sadness of being blind in Granada." This is one of Spain's most beautiful cities and a historical and cultural crossroads between Africa and Europe. Muslim Arabs, or Moors, ruled this region of Spain for seven centuries before their final expulsion in 1492 by Ferdinand and Isabella. The contrasts between the oldest parts of the city, comprising the Albaicin and the unparalleled fortress/palace called the Alhambra and the bustling contemporary metropolis are stunning. With over 60,000 students in the University of Granada, the city often feels like a college town.
Historically, the violence and trauma of the Spanish Civil War (1936-39) and its aftermath were brutally experienced in Granada, and these are currently portrayed and re-imagined in world literature and Spanish cinema. Another reality of Spanish life is the ever-growing immigrant population, arriving from West and North Africa, adding to the diversity and richness of contemporary Granada. Literature and film from Africa and Spain, providing perspectives from both sides will be linked for a portrait of this evolving, often uneasy merger of complex cultures and religions. Study of texts and films will be dramatically augmented by field trips to Madrid and Morocco.
WHO SHOULD GO
The courses offered are "LTAF 120GS - African Literature: Islam and Immigration" and "MMW 14GS: Revolution, Industry and Empire." LTAF 120GS fulfills a specific requirement for a class in "Global South Studies" for Thurgood Marshall College, and may also be used as an elective/requirement for Global South Studies and Literature majors and minors. MMW 14GS may fulfill Making of the Modern World requirements. Consult your academic advisor to determine officially how the courses will apply to your graduation requirements.
Majors in the sciences or engineering, who need humanities electives or who hesitate to study abroad because of their severe "time to graduation" constraints, would do well in this five-week summer experience of cross-cultural enrichment. Any study abroad listing adds a highly prized dimension to students' job-hunting or graduate school resumes.
Information Sessions
Monday, Nov 7 at 5:00 - 6:30 pm
Register here for the live Zoom link, and/or to get the post-session recording.
DATES (Tentative)
Departure from U.S.:
Sat., July 1, 2023
Arrival:
Sun., July 2, 2023
Mandatory Orientation:
Mon., July 3, 2023
First Day of Class:
Tues., July 4, 2023
Last Day of Class:
Fri., August 4, 2023
Departure for the U.S.
(or personal travel):
Sat., August 5, 2023
ARRIVAL INFORMATION
Do not purchase plane tickets

until the program is confirmed. All approved applicants will be notified by e-mail when the program has been confirmed by reaching minimum enrollment. 

Because of the evolving COVID-19 situation, when you do buy tickets, we strongly encourage you to purchase refundable plane tickets or flight cancellation insurance.

Consider purchasing carbon offsets for your flight through your airline.

In order for our local partner to meet you at the airport, your flight must arrive at the Granada Federico Garcia Lorca airport (GRX) between specific times to be set in spring in order to take advantage of airport pick up. Students who arrive outside the pick-up window will receive instructions on how to make their way to program housing independently. 

The Study Abroad Office will be hosting several flight workshops to provide tips and advice on flight purchases. Check the Study Abroad Calendar for more information.  

Our overseas partner requires that all students be fully vaccinated against COVID-19 in order to participate in this program. The provider will request verification during the pre-departure process. No refunds will be given for failure to comply.