Overview
FACULTY LEADER
Michael Caldwell
macaldwell@ucsd.edu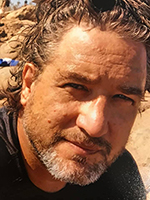 Michael Caldwell has been teaching for the Revelle Humanities program since 2000. He is also a full time lecturer in the Department of Classics and Humanities and San Diego State University. His research focuses on 18th century political journalism, jazz, the literature of passing, and the possibilities of humane discourse and transformative justice in the age of cancel culture. He received his MA and PhD in British Literature from the University of Chicago and a BA in Humanities and English at Valparaiso University.
ACADEMIC FOCUS
WHY YOU SHOULD GO
London is a site of extraordinary cultural and historical importance for the three key periods and themes of Humanities 3: the Renaissance, the Reformation, and Early Modern Europe. Several of the required texts for the Humanities course arise from the work of English writers during the course period (Shakespeare, Thomas More, Francis Bacon, John Milton). Many of the historical events that led up to and featured prominently in the English Civil War also took place in and about London — in expected locations such as Parliament and royal palaces as well as in less likely locales, such as Putney fields. Studying these events in London will afford students an unparalleled opportunity to explore historical events where they actually occurred. To engage with this material in situ will provide students with a once in a lifetime opportunity to experience history coming alive as a subject.
WHO SHOULD GO
Revelle College students can fulfill two Humanities requirements through this program. Warren College students may be able to fulfill one Programs of Concentration requirement or one Area Studies requirement or one Upper-Division Non-Contiguous requirement (refer to Warren Academic Advising Office for more information).
Information Sessions
Monday, Jan. 10, 5:00 - 6:30 pm
Register here

 

for the 

live Zoom link, and/or to get the post-session recording.
DATES
Departure from U.S.:
Sat., June 25, 2022
Arrival:
Sun., June 26, 2022
Mandatory Orientation:
Mon., June 27, 2022
First Day of Class:
Mon., June 27, 2022
Last Day of Class:
Fri., July 29, 2022
Departure for the U.S.
(or personal travel):
Sat., July 30, 2022
ARRIVAL INFORMATION
Do not purchase plane tickets

until the program is confirmed. All approved applicants will be notified by e-mail when the program has been confirmed by reaching minimum enrollment. 

Because of the evolving COVID-19 situation, when you do buy tickets, we strongly encourage you to purchase refundable plane tickets or flight cancellation insurance.

Consider purchasing carbon offsets for your flight through your airline.

Arrival instructions will be posted here once the program is confirmed.

The Study Abroad Office will be hosting several flight workshops to provide tips and advice on flight purchases. Check the Study Abroad Calendar for more information.

Our overseas partner requires that all students be fully vaccinated against COVID-19 in order to participate in this program. The provider will request verification during the pre-departure process. No refunds will be given for failure to comply.