Note
The deadline for Summer 2021 Global Seminars has passed. If you are interested in joining the mailing list to be notified as soon as we announce our Summer 2022 programs, please sign up here!
Overview
FACULTY LEADER
Jonathan Shurin
jshurin@ucsd.edu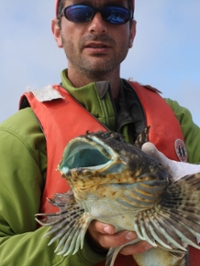 Jonathan Shurin is Professor in the Section of Ecology, Behavior and Evolution.  His research aims to uncover the working of ecosystems- Why are some green and leafy while others are barren? Why do some contain more species than one could count in a lifetime and others only a few? This work takes him to the tops of the Sierra Nevada Mountains of California, the kelp forests on the wild Pacific Coast of Canada, and the rainforest of Colombia. He is also interested in measuring the value of the services provided to society by natural systems such as clean water and productive fisheries. He believes in the transformative educational value of first-hand experience in ecosystems for students of biology and learning by systematically observing and quantifying patterns in nature.    
DATES
| | |
| --- | --- |
| Program Begins: | Mon., June 28, 2021 |
| Last Day of Class: | Fri., July 30, 2021 |
ACADEMIC FOCUS 
Why you should go
The New World tropics are a monument to biodiversity.  A small patch of forest in Costa Rica may contain more kinds of trees, birds and insects than all of North America.  The backdrop for this program is Ostional, the scene of a regular wildlife spectacle - the mass nesting when hundreds of olive ridley (Lepidochelys olivacea) sea turtles come ashore to lay eggs.  You will learn about wildlife and ecosystems that only a lucky few get to experience.  
Who should go
Anyone fascinated with biology, diversity, ecology and the conservation of nature.
Information Sessions
Virtual Programs Information Session: Wednesday, February 24, 4 - 5:30 pm
Register here

 for the info session recording about the onsite program