Overview
FACULTY LEADER
Peggy Lott
plott@ucsd.edu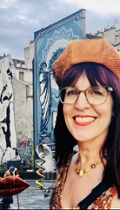 Academic study of ASL and other sign languages has been the focus of much of Professor Lott's life. After encountering ASL as a child, she learned signs from friends during middle school and high school and snuck into an "adult education" class. When she began as an undergraduate at UC San Diego, she reviewed the accuracy of her signs by enrolling in independent study in the Linguistics Language Lab. After graduating, she began teaching ASL at San Diego Mesa College, and just prior to taking several years to complete her PhD in Anthropology of Deaf Culture, she lived in Paris at L'Institut National de Jeunes Sourds for five months. Seeing students excel in their acquisition and understanding of ASL is her number one career goal.       (Photo Credit: Erik Jepsen)
ACADEMIC FOCUS
WHY YOU SHOULD GO
Some estimates claim that one third of the signs ASL employs today are similar to French signs. The two languages, however, are not mutually intelligible. Practice with both the ASL and French signs for many basic concepts will enable students to experience how comprehension can be achieved through an implicitly negotiated process of creating bridges between signs of different languages. Participation in excursions and cultural visits will turn students' classroom discussions into actual practice where their knowledge of ASL will truly be an asset in live interactions with deaf people.
WHO SHOULD GO?
Both courses in the seminar may be applied toward the linguistics minor in language studies/ASL. The upper division course has been approved for the DEI requirement since its focus is the exploration of cultural connections between ASL and several sign languages of people of color. Consult your academic advisor to determine officially how the courses will apply to your graduation requirements.


Information Sessions
Thursday, January 16, 3-4:30 pm, Study Abroad Office Programming Space
Wednesday, February 12, 5-6:30 pm, APM 4301
DATES
Departure from U.S.:
Sat., June 27, 2020
Arrival:
Sun., June 28, 2020
Mandatory Orientation:
Mon., June 29, 2020
First Day of Class:
Tues., June 30, 2020
Last Day of Class:
Fri., July 31, 2020
Departure for the U.S.
(or personal travel):
Sat., August 1, 2020
ARRIVAL INFORMATION
Do not purchase plane tickets until the program is confirmed. All approved applicants will be notified by e-mail when the program has been confirmed by reaching minimum enrollment. 

We strongly encourage you to make your flight arrangements to arrive during the window of time specified in order to utilize the program shuttle airport pick up.  Please make sure your flight arrives between the times of 6:00am and 5:00pm on June 28 at the Paris (Airport Code

 

CDG) airport. If your plane itinerary arrives after 5:00pm, you will NOT be able to check in to the housing (besides rare cases of flight delays for plane itineraries listing flights arriving before 5:00pm).
Contact STA Travel if you would like to book flights with other students on this program or take advantage of the airfare deposit program.
The Study Abroad Office will be hosting several flight workshops to provide tips and advice on flight purchases. Check the Study Abroad Calendar for more information.