In Search for Kafka in Prague

Program Cancelled
In Search for Kafka in Prague has been cancelled, so please consider one of the following instead:
- Another
Global Seminar
(particularly another
featuring MMW courses
)
- Attend or watch a
First Steps session
to learn more about other Study Abroad Options
Overview
FACULTY LEADER
Babak Rahimi
brahimi@ucsd.edu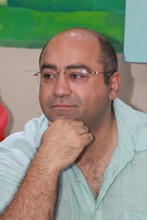 Babak Rahimi is Associate Professor of Communication, Culture and Religion at the Department of Literature and the director of the Third World Studies at the University of California, San Diego. He earned his PhD from the European University Institute, Florence, Italy, in October 2004. Rahimi has also studied at the University of Nottingham, where he obtained an M.A. in Ancient and Medieval Philosophy (1997), and the London School of Economics and Political Science, where he was a Visiting Fellow at the Department of Anthropology, 2000-2001.
Rahimi's research examines the relationship between culture, religion and politics. His book, Theater-State and Formation of the Early Modern Public Sphere in Iran: Studies on Safavid Muharram Rituals, 1590-1641 C.E. (Brill 2011), studies the relationship between ritual, public space and state power in early modern Iranian history. Rahimi has been an expert guest on various media programs like The News Hour with Jim Lehrer, BBC and CNN, in addition to NPR and On the Media. Also, he has been a visiting scholar at the Internet Institute, University of Oxford, Berlin Graduate School Muslim Cultures and Societies, Freie Universität Berlin, and the Annenberg School for Communication at the University of Pennsylvania. His current research project is on the relationship between digital culture, politics and religion. 
ACADEMIC FOCUS
Why you should go
Imagine walking on the Charles Bridge, over the Vltava River, as the baroque statues, depicting various saints stationed on the balustrade, evoke a gothic sense of romance amid a Bohemian city. The cathedrals, church domes, winding cobblestone streets, walled courtyards and countless restaurants and coffee shops are reminder of a city that never sleeps. From the Golden Lane to the Old Town Square, Prague is a never-ending city, vibrant, energetic, always on the move. Here, history is in full public view. Looking over the bridge is the famed 9th-century Prague Castle, where powerful kings of Bohemia, Holy Roman emperors and presidents of Czechoslovakia have resided. The Wenceslas Square and the National Museum at night is a sea of light for the delight of tourists and residents alike. The "nostalgic tram" no. 91 runs through this ancient city that has seen the domination of Soviet communism until the early 1990s. Milunić and Gehry's Dancing House, a postmodern building designed by the Croatian-Czech architect, Valdo Milunićis, is representative of a new era of democratic culture and politics. The Dancing House twists and turns to a (post) modern city known for its cultural art and as one of Europe's most popular travel destinations.
But there are also hidden histories, secrets that served as a source of inspiration for Franz Kafka's tales of totalitarian bureaucracy and modern alienation. "Prague," Kafka once wrote, "never lets you go…this dear little mother has sharp claws." The Jewish expulsion of the Jews in 1745, based on allegation of collaboration with the Prussian army, is one among many haunting tales that Kafka was familiar as he wrote his masterpieces about modern loss and human alienation. The theme of Global Seminar 2018, "In Search of Kafka in Prague," is to venture a city through the literary works of Prague's most famous writer; it is to get lost in a world that the famed German composer, Richard Wagner, once described as "a city beyond compare." The two Global Seminar courses will examine complex cultural, political and literary histories of Prague in the broader world history. Study of Kafka's novels and short stories will provide a dramatic, gloomy and at times humorous background to what Kafka once described as a city that "never lets you go."
Who should go
Students from all colleges are welcome
MMW 15: Twentieth Century is a required course for ERC students and could fulfill general electives and GE requirements for other colleges and departments.
Students in majors and minors in humanities can enrich their perspective through European literature tied with urban cultural history and intellectual currents of the twentieth century. Who should go? Those who want to see the world from a different perspective so to change themselves and accordingly the world. The real voyage, as Marcel Proust writes, is the discovery not in "seeking new landscapes, but in having new eyes
DATES
Departure from U.S.:
Sat., June 25, 2022
Arrival:
Sun., June 26, 2022
Mandatory Orientation:
Mon., June 27, 2022
First Day of Class:
Tue., June 28, 2022
Last Day of Class:
Fri., July 29, 2022
Departure for the U.S.
(or personal travel):
Sat., July 30, 2022
ARRIVAL INFORMATION
Do not purchase plane tickets

until the program is confirmed. All approved applicants will be notified by e-mail when the program has been confirmed by reaching minimum enrollment. 

Because of the evolving COVID-19 situation, when you do buy tickets, we strongly encourage you to purchase refundable plane tickets or flight cancellation insurance.

Consider purchasing carbon offsets for your flight through your airline.

Arrival instructions will be posted here once the program is confirmed.

The Study Abroad Office will be hosting several flight workshops to provide tips and advice on flight purchases. Check the Study Abroad Calendar for more information. 

Our overseas partner requires that all students be fully vaccinated against COVID-19 in order to participate in this program. The provider will request verification during the pre-departure process. No refunds will be given for failure to comply.