Program canceled for summer 2022
We hope to offer this program again in a future summer.
Overview
FACULTY LEADER
Thomas Schmidt
t1schmidt@ucsd.edu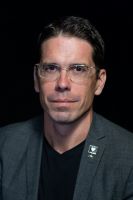 Thomas Schmidt is an assistant professor in the Department of Communication and the author of the book "Rewriting the Newspaper: The Storytelling Movement in American Print Journalism." His research focuses on journalism, its role in society and its changing nature in the digital world. He teaches the two-course sequence of the department's honors program, an introductory class for the Communication major and other classes that explore media and politics. Originally, he is from Austria and prior to his academic career he worked there as a journalist for major national news organizations (e.g. Austrian Public Broadcasting).
ACADEMIC FOCUS
WHY YOU SHOULD GO
You will be able to learn about journalism in a city has been consistently ranked as the world's most livable city (according to the annual Mercer survey) and hosts numerous international organizations and foreign correspondents. Vienna with its central location in Europe at the crossroads of east and west, north and south offers invaluable opportunities for understanding the role of the media in shaping not just European, but global issues such as immigration, global warming, and cultural change. In COMM 30GS we'll focus on the role of journalism in a global system so that you'll be able evaluate the challenges, benefits, and limitations of mass media. COMM 104GS focuses on analyzing media systems in Europe from a comparative perspective and will enable you analyze important differences with respect to journalistic and political cultures. During excursions you will have a chance to engage with a variety of journalists, spokespeople from international organizations (e.g. United Nations), and international non-profits (International Press Institute) as well as travel to Prague and explore the city's rich cultural and political heritage.
WHO SHOULD GO
Anyone who wants to acquire critical communication skills, cultural sensitivity and in-depth knowledge to navigate an increasingly global media environment. Anyone who wants to experience the European way of life in a vibrant and cosmopolitan city offering urban adventures, easy access to the majestic Alps and endless opportunities to explore neighboring countries like Italy and Germany or other parts of Europe. COMM 30GS, a lower division class, is designed to transcend disciplinary boundaries, and to be considered for counting towards other majors and GE programs. COMM 104GS, an intermediate level course, serves Communication majors and minors as well as students who need to meet electives from social science classes. This program has been pre-approved for the Seventh College high-impact requirement. Consult your academic advisor to determine officially how the courses will apply to your graduation requirements.
Information Sessions
Wednesday, Feb. 2, 3:00 - 4:30 pm - Canceled
Register here

 

for the 

live Zoom link, and/or to get the post-session recording.
DATES
Departure from U.S.:
Sat., June 25, 2022
Arrival:
Sun., June 26, 2022
Mandatory Orientation:
Mon., June 27, 2022
First Day of Class:
Mon., June 27, 2022
Last Day of Class:
Fri., July 29, 2022
Departure for the U.S.
(or personal travel):
Sat., July 30, 2022
ARRIVAL INFORMATION
Do not purchase plane tickets

until the program is confirmed. All approved applicants will be notified by e-mail when the program has been confirmed by reaching minimum enrollment. 

Because of the evolving COVID-19 situation, when you do buy tickets, we strongly encourage you to purchase refundable plane tickets or flight cancellation insurance.

Consider purchasing carbon offsets for your flight through your airline.

Arrival instructions will be posted here once the program is confirmed.

The Study Abroad Office will be hosting several flight workshops to provide tips and advice on flight purchases. Check the Study Abroad Calendar for more information.

Our overseas partner requires that all students be fully vaccinated against COVID-19 in order to participate in this program. The provider will request verification during the pre-departure process. No refunds will be given for failure to comply.