Student Stories and STARS
Learn more about other students' experiences abroad!
Study Abroad Returnee Stories (STARS)
Student Blogs
Celebrating Diversity
Student Spotlights

A Hidden Treasure in the Caribbean
"Barbados?...Where in the world is that?!"
As I announced my decision to go to one of EAP's best kept secrets I usually got an excited but confused response from people. I hope to keep it a secret no longer! Barbados is another wonderful EAP hotspot in the south eastern most part of the Caribbean.
There are so many countries to choose from so,
"So why Barbados?"
The second question I usually got from people. Well it's hard to sum up an amazing four months in a single article, but I will start off by saying that it was BEYOND anything I could have ever imagined. The PEOPLE absolutely made the trip and it feels wonderful to know that I've made some lifelong friends. It was one of the most refreshing experiences for me. The pace of life runs at a fraction of San Diego speed, the people are incredibly friendly, the weather is always beautiful, and living expenses are pretty cheap.
I now understand the true meaning behind the oh so commonly repeated line from study abroad returnees, "Traveling abroad is eye opening." It was both an eye-opening and breathtaking experience for me:
I get off the plane and am greeted by an energetic, welcoming lady, one who you just intuitively want to call mom. Avril, was the best greeting to an unforgettable trip and the first of many locals to be so friendly.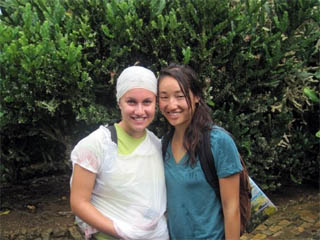 It's Monday morning and I'm headed to my first class. I walk into a large lecture of about 100 students only to find that I am the only Asian in the entire hall. Coming from UCSD, this was a definite shock! I learned to embrace and to enjoy being a minority—being recognized by professors and random strangers on campus, tolerating the occasional stares, and sometimes enjoying the extra attention. I felt unique. It is a beautiful feeling of individuality I will hold close.
First breathtaking moment: Scuba Diving. Being a swimmer I was ecstatic about being able to BREATHE underwater, to actually become a fish! After suiting up with what seemed like fifty pounds of gear, I waddled over to the crystal blue water. Surreal. Taking my first breathe completely immersed in water was cold, crisp and refreshingly artificial. I was so relaxed and happy underwater that I sank straight to the bottom. It is literally a whole new world down there and one that I will hopefully be able to explore with my new scuba certification. I encourage more people to try scuba diving.
I came to study right? Classes were interesting given the Caribbean emphasis and Barbadian perspective. My favorite class was Special Education for Children with Mental and Health Impairments. I not only had school teachers as colleagues in a twelve person class, but I actually got to go to primary schools to interview teachers. Very hands on. I felt a unique connection to the Bajan school system and a better understanding of the integration of disabled children into mainstream classrooms. Another one of my courses, popular among EAP students, was Caribbean Island Biogeography. We got to explore the entire island focusing on certain topics during our weekly field trips (i.e. turtles, green monkeys, snails, rock formations, and plants) The best trip was watching a hawksbill turtle lay her eggs on the beach! We not only go to see this standing inches from the mother turtle, but we also got to help baby turtles to shore (Many baby turtles stray from the ocean due to hotel and other business' lights)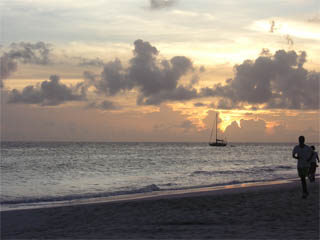 Second breathtaking moment: Mt. Soufriere in St. Vincent. A group of us decided to travel to one of the neighboring islands: St. Vincent, the site of the Pirates of the Caribbean filming, although other students went to Trinidad and Tobago, Dominica, and St. Lucia to name a few. The highlight of St. Vincent was hiking Mt. Soufriere. Just imagine bamboo forests at the base of the volcano, vines, palm trees, and greenness everywhere! I charged up the mountain with a friend until we got to a clearing... beauty! I've never hiked so high up where the sky completely opens up and nothing is higher than the point you're standing on. All I could see were the short trees around me and an endless cloud of fog. I felt on top of the world! We meditated as light rain started to drizzle on our heads.
I learned to slow down, to just breathe. Waiting hours for an event to start, for a taxi to come, or even for food to be served was common. There were times when I thought I was going to melt from the heat and moments where I felt like I was in a dream. The ocean had a therapeutic magic and the local vibe an infectious calmness. Barbados inspired me. I was involved in the AIDS/HIV peer advocacy group on campus and went through peer counselor training. Every Friday I visited a stimulation center for children with physical and mental impairments. I fell in love with the local music and danced many nights away. I learned that there is a different way to live, too little time to stress, and a world of possibilities.
I hope all of you find the courage, time, and resources to travel abroad. It is an invaluable experience.
If you are at all interested in the Barbados program I would be more than happy to be a resource because information about the program and country can be difficult to find. Barbados is definitely a hidden treasure!
by Reina Kawazoe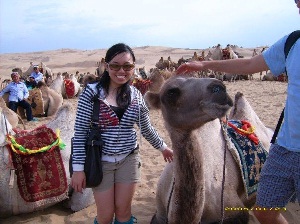 When I first arrived in China I expected to visit historical sites such as the Great Wall and Forbidden City and learn about ancient Chinese history. However, I discovered that my experience in China is more than that. It's also about connecting with people and understanding China in the modern day. I've seen the ruins of the oldest cities in China as well as the construction of the Beijing Olympic Stadium. It's a very unique opportunity to be able to see the past and the future in one place. I've become more than just a passing traveler since I am now a temporary resident. Each day is different from the next and I've learned to take things as they come. This photo was taken in a desert in Inner Mongolia on my 21st birthday! So far, my experience abroad has opened my eyes and I learn something new everyday. I'm so lucky to have this experience to study in Beijing and I look forward to the many more opportunities that I will have while I'm here.
by Maria Lourdes (Malou) Amparo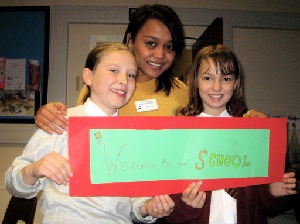 During the Fall quarter, I studied in London to do a Service-Learning program. Among all the wonderful places that I have visited and the different countries surrounding London, I enjoyed the the volunteer work that I did at the two prominent primary schools around my community. Through this, I was given the privilege to work with staff, faculty and students in both primary schools. I was able to build friendships and networks among these people, which in the end I greatly valued. The opportunity to do volunteer work is one of the most rewarding experiences I had when I studied abroad.
by Fraylanie Aglipay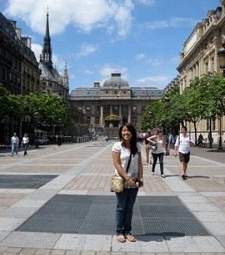 I wish I was staying here for a whole year so I could become completely immersed in the unique culture that is Paris. Even though I only have five weeks here (relative to spending a year abroad) I think I'm going to make the best of all the free time. I'm going to keep that little phrase book in my pocket and try to expand my meager, meager vocabulary.

See Katharine's blog for a day-by-day description of her experience in France.
by Katharine Chin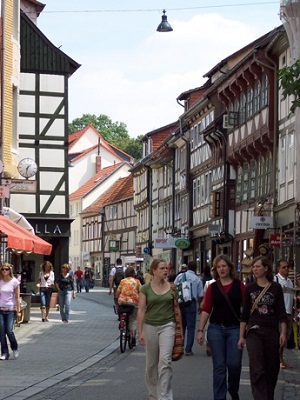 My year abroad in Germany was one of the most valuable experiences in my life not only because I learned about life in another country, but - more importantly - I learned about life as a foreigner. My experience gave me a wealth of perspective on what it means to be truly new somewhere, and what bravery it takes for people to move to a new country and start from scratch.
While my experience as an international student was certainly less extreme than that of an immigrant, it still opened my eyes to the challenges that one faces while attempting to call a new country home - anywhere from the language barrier to cultural differences to confusing bureaucratic labyrinths. It also allowed me the truly unique experience of enjoying life where everything is different.

Through study abroad, I was able to break out of the monotony of home life and step into entirely unfamiliar territory. As such, I learned something new every day while in Germany, and it was such a wonderful feeling to see everything from a different perspective. I believe that this must be why I've never heard of a bad study abroad experience: no matter what challenges you face, the constant stimulation and wonder you feel in a foreign country makes up for them. In a place where everything is new, you can't help but feel truly alive - and that was really the charm of study abroad for me.
by Naomi Ogilvie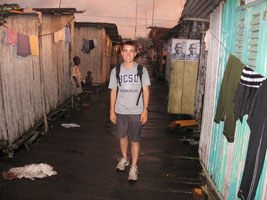 Despite having returned from Ghana fifteen months ago, I still view day-to-day life through the lens of West Africa. A half-dozen times per day, I think thoughts such as, "This orange reminds me of the fruit stacked in the African markets" or "That Fiji bottle sure brings back memories of the waterfall hike on the Ghanaian-Togolese border."

I've been lucky to work in Professor Vinetz's tropical disease lab at UCSD and have studied malaria in class. But Ghana opened my eyes to aspects of the disease that I had never even considered. I saw the frequent bouts of infection and economic hardship that people suffered in the tropics' malaria belt. Thanks to the UC's Education Abroad Program, I was able to gain first-hand experience with the World Health Organization and with neglected tropical diseases... the medical field I'm interested in entering.

The time in West Africa at the hospital was eye-opening. I had previously studied malaria through the microscope and public health statistics, but I was humbled to learn there was so much more to learn firsthand, by seeing the devastating effects of the disease and listening to families talk about it.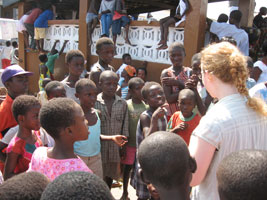 As a Third World Studies major, going to Ghana was the best possible immersion into my field. Everywhere I turned, there was an opportunity to learn about developing countries and globalization. One day, I toured an Indian transnational corporation that's the largest tomato paste importer into Africa. Another day, I met an American physician at a malaria conference and was subsequently invited to share Thanksgiving Dinner with his family. And some of us students befriended a couple Peace Corps volunteers and learned about that opportunity. As you can see, doors fortuitously open when you're abroad!

In those five months in Ghana, I learned an incredible amount about America and the values important to me.
by Kenneth Wong

Two months here in Hong Kong have been anything but tame. And I mean that in a GREAT way.
The first month here has definitely been quite a challenge, especially the first two weeks being just composed of running around all over the place to get settled. Mix that in with trying to explore the city at the same time and you get a very chaotic but very fun time!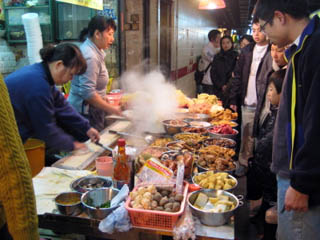 The hardest thing to adjust to when coming to Hong Kong has definitely been the pace of lifestyle they have around here. It's significantly faster than in the states. This pace applies to EVERYONE in Hong Kong. Specifically, everyone basically walks as if they're in a rush: on the streets, in the MTR (subway train) station, and generally everywhere. You definitely have to stay on your toes until you adjust about after a month or so. But when you do, you'll definitely appreciate the convenience of the transportation system here.
The most awesome thing you will ever use in Hong Kong is the Octopus card. It's basically a card with an embedded computer chip that you use for practically everything from buses to the MTR, to buying groceries or fast food restaurants. The economy is significantly less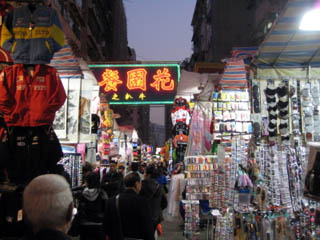 credit driven than back in the states, so all my expenses are paid for by cash and Octopus card.
Hong Kong is divided into districts that are surprisingly unique despite their close proximity. Each district on Hong Kong Island is really close to one another and within walking distance, but each district is very different in what they contain.
Some districts are better for shopping, some have corporate buildings, and some are better for eating. Some nights for having fun involve traveling from district to district for the next big thrill!
by Gavin Tong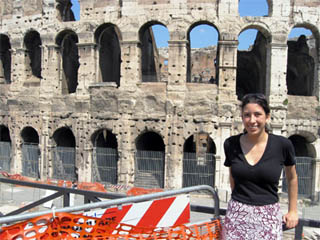 Heat and humidity hit me like a wave as I exited Leonardo Da Vinci Airport just outside of Rome. An eager International Studies Abroad (ISA) staff member ushered me and a few other UCSD students to a lineup of taxis and spoke to one of the drivers in Italian. I slid into the front seat of the taxi and the driver said, very quickly and enthusiastically, "Buongiorno! Mi chiamo Fabrizio."
All at once it hit me: I was in Italy... and I spoke only a few words of Italian. I got out my phrasebook and stumbled through a conversation with Fabrizio as we sped off down the highway, flanked on both sides by miles of farmland, toward the city. Soon we arrived at our apartment in Trastevere, one of residential areas of Rome. I stared up in wonder at the towering, brightly colored apartment buildings and thought to myself, "What on earth have I gotten myself into?"
I had gotten myself into what would prove to be the greatest adventure of my college career. I was in Italy for a UCSD Global Seminar called Mathematical Beauty in Rome. The goal of the program is to introduce students to principles of structural engineering, architecture, and geometry by studying the construction of the ancient monuments of Rome, Florence, and Pisa. Students also learn how to create two-dimensional computer-aided designs (CADs), an essential skill for anyone who hopes to go into engineering or design related fields. After completing the seminar I found that I had a firmer grasp on the concepts of geometry than I ever had when I took it in high school.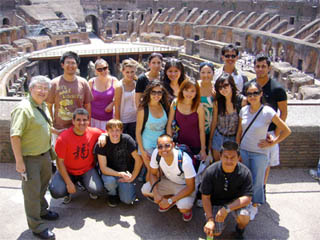 In addition to the academic aspects of the curriculum, the program also seeks to provide students with a superior cultural awareness of both ancient and present-day Italy. With the program I went on excursions to the Colosseum, Musei Capitolini, the Uffizi Gallery in Florence, Via Appia (the oldest road in Rome), the Sistine Chapel, the leaning tower of Pisa, and many more similarly awe-inspiring locations. Simply being able to live in Trastevere for five weeks amongst Italian families was worth the trip.
During the program I spent a week touring parts of northern Italy, including Venice, Florence, and Pisa. The visit to Venice coincided with the annual celebration for Redentore, a Venetian holiday celebrating the disappearance of the Black Plague. There I witnessed what must have been the most spectacular fireworks display on the planet. It went on for over forty minutes and all I could think on that fantastic night, standing amongst my American classmates, was that we were the luckiest students in the world.
One weekend a few other students and I planned a train trip to the south of Italy. We were surprised by wonderful weather when we got to Pompeii and spent the better part of a day investigating the picturesque and incredibly well-preserved ancient city. Rolling green hills and a cloudless sky painted a perfect backdrop for the city and, towering above everything, was the infamous Mount Vesuvius. We continued south and stayed in a hostel just outside of Sorrento with rooftop garden from which you could see for miles in all directions. The next day we rented a boat, hired a guide, and went to the island of Capri. The island was beyond beautiful and our guide let us out of the boats for a swim through the Green Grotto. We returned to Rome with deep suntans and huge smiles on our faces.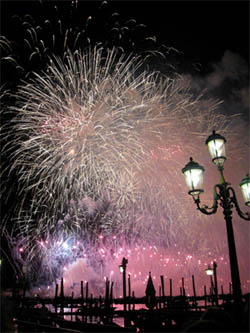 When not in class or on excursions my days were filled with exploring the city in constant search of gelaterias, shopping along the side streets and alleys that bordered Campo dei Fiori, or sampling some of Italy's best pizza at the pizzerias found on almost every street corner. At night I went walking with classmates along the banks of the Tiber River to take part in the nightly fairs held there or played soccer with newfound Italian friends. I also had the pleasure of attending a professional soccer game (AS Roma vs. Belgium). Sitting in the stands with my friends and listening to the complicated Roman cheers was one of my most cherished memories of the program.
Not only was Math in Rome the highlight of my time at UCSD, it was undoubtedly one of the defining moments of my life. If I was able to I would return to Rome for this Global Seminar every summer for the rest of my life. I have a very structured major, so I am beyond grateful to have been able to study abroad during my time at UCSD. I would encourage students thinking about studying abroad to forget all of their uncertainties and just go for it! No matter where in the world you choose to go, I guarantee that you will not regret your choice to study abroad with the help of the Programs Abroad Office.
by Laura Blum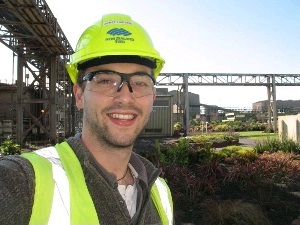 Studying abroad in New Zealand for all of 2006 gave me the opportunity to put my engineering skills I've learned at UCSD to the test in the international arena. The results: I excelled in my classes and even worked at New Zealand's only steel mill as a full-time engineer.

In retrospect, I can see that studying abroad taught me new ways to solve old problems by letting me see things through a different perspective, a more Kiwi perspective. Most of all though, studying abroad gave me the confidence of knowing I ranked very highly amongst both the academic and working engineering worlds, both domestically and internationally. Studying abroad was the best time in my life, and I would highly recommend it to anyone, especially those in the engineering field.
by James Harper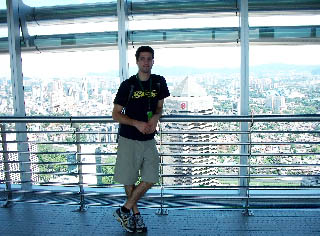 I arrived in late July; around the 27th of July. During my travel to Singapore I met a few other EAP students on layover in Hong Kong. When the plane finally landed in Singapore after nineteen hours in the air I was exhausted but excited. My new friends and I passed through customs and all pitched in for a taxi. Before long we were on the road to the National University of Singapore, our home away from home for at least the next four months. I was immersed in this new culture as soon as the taxi drove away from the airport as I found myself riding on the opposite side of the street.
The residence I am living in is called Prince George's Park. It is a complex of nearly 30 seven-story buildings. All of the rooms are singles and a few lucky souls were able to acquire rooms with air conditioning and a personal bathroom. Security is very tight in PGP. Every room has a personal transponder that allows the students access to their rooms. The transponder is also needed to get to the floor that the room is on as well. As tight as security is in PGP, strange things still seem to happen. One day everybody's curtains went missing and I came back to my room one night and found I had no mattress.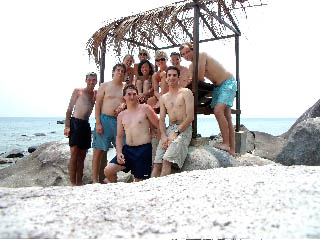 Transportation around NUS and Singapore is very organized. The bus system both on and off campus offers easy access to all the places one might need or want to go. Classrooms all over campus are not more than fifteen minutes away. Best of all is Singapore's MRT or Mass Rapid Transit system. Travel from one end of the island to the other only takes about 45 minutes. The easy access to everywhere in Singapore allows everyone the opportunity to go to all of the wonderful places around the country. It never takes very long to go from campus to the Bukit Timah Nature Reserve or to one of Singapore's many malls. And if there is a rush for time, taxis are always around. Before long I found out how much Singapore had to offer: a zoo, nightlife, plenty of shopping, and of course lots and lots of new and interesting food.
Singapore is geographically about 1.5 degrees north of the equator, and is a country that is surrounded by many other countries. This means "travel". Just across the bridge to the north is Malaysia. To the South is Indonesia. Vietnam, Cambodia and Thailand are not more than a two-hour flight away. I managed to get involved with the NUS Dive Club. With this club and the many new friends I acquired, I traveled to Malaysia for a dive certification course. It is amazing to me that the group could leave on Friday night travel about 6 hours to an island off of the southern coast of Malaysia, dive all day Saturday and once Sunday morning and return back to Singapore for class on Monday.
This became the norm for travel during the semester: leave Friday afternoon to visit Indonesia or to head out to an exotic place in Thailand for the weekend only to return back to Singapore in time for class on Monday, and then do it all again in the next week or two. Wow, what fun. Needless to say, traveling to exotic places and different countries considerably added to the exchange experience. Given all the destinations that surround Singapore traveling can become more part of the student life than actually being a student. Nearly every weekend somebody had plans to go somewhere new, cool and exciting.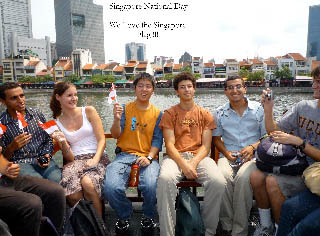 But there is more to the exchange experience than traveling. Being immersed in a new and different university was very expanding on a personal level. During class there are so many new people to meet and interact with. School became just as fun as all the traveling. Class lectures only lasted so long and then there was opportunity to get together with others to study and hang out. And as the time passed and midterms started to happen most students could be found in the study rooms all over campus. In the second half of the semester traveling was put on the back burner as everyone began to focus more and more on their school work.
When classes first started in August I quickly found that I needed to make a few adjustments to my study habits. The most obvious was the use of the professors' lecture notes during class. The notes were provided on the Integrated Virtual Learning Environment or IVLE. They were easy to print out and take to class. On this website students also had access to many of the class resources including tutorial assignments, lab worksheets and more. The professors in all of my classes were very well prepared, posting assignments and other necessary items online for the students. This website also provided a forum for students to ask questions and get help with assignments. This feature was of great benefit for those who took the time to use it.
Participating in the Fall Education Abroad Program was one of the most rewarding and challenging experiences I have ever had. The exchange program helped me expand my cultural awareness. I was immersed in an education system that was similar to my own in many ways, but at the same time was very different. Although it was challenging, I believe I learned much about myself and I now have a better understanding of the world at large.
by Raymond Wingfield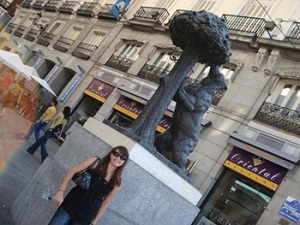 I studied in Spain this summer and the entire experience was so amazing, I am not sure how to narrow it down. To start off, the program itself was both well-organized and informative. The teachers were knowledgeable and helped us make the most out of our trip. They shared their favorite places to visit and advised us on cultural aspects. The group trips planned for us were coordinated with the material taught in our culture class. The staff made sure that we received good accommodations and arranged informative and fun tours, but also left us plenty of time to explore the places on our own. Back in Madrid, they helped us with everything from health problems to planning our independent weekend trips.

I lived with a Spanish woman who was very helpful and took care of everything I needed. My living situation was shared with another student from the University of California and we were exceptionally well matched; so well matched that we have become good friends and intend on seeing each other soon.

Overall, my trip has renewed my interest in both my life and in the world. It's so easy to get caught up with school and work and to lose sight of both goals and things left to discover. Studying in Spain this summer has introduced me to a vibrant culture and everything I have left to experience while here.
by Kristina Manvelian
Student Articles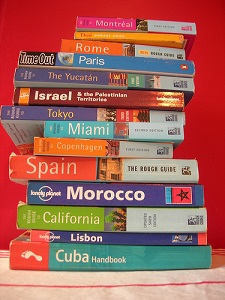 "Get excited about studying abroad. Do some research and read some travel books about where you want to go or to help you decide your destination. There's a lot of preparation and anxiety before you go but it is all worth it. Such an opportunity will never present itself again that allows you do spend a prolonged period of time abroad while still continuing your studies. it will definitely be something you look back on in amazement, making you so glad you did it."
"Go for as long as you can and take full advantage of the time you have. You don't know how short it is until the day you leave and you're at the airport wishing you did and saw more or that you had more time to hang out with all of the people you've met and built relationships with. It truly is one of my most memorable experiences."
"Don't think twice..go for it..it is worth the money and is such a great experience that everyone should do at least once in their schooling."
"Don't hold back. If you're studying abroad, go for a big, long term, and exciting program. Also, it's not true that everyone hates Americans, so don't be afraid to ask questions and meet people from different backgrounds.'
I decided to study abroad before I even got to UCSD, the love for travel was in my blood, and I had taken off to work in France right after high school graduation. I wanted to immerse myself in a new culture completely and finally absorb the language I had studied throughout high school. When choosing a study abroad program, cost often times plays a large role in what program you will go on. I learned this lesson the hard way when looking for a study abroad program to Buenos Aires. Finally I found something within my parents price range when I found community college programs. San Diego City College was going to Buenos Aires the following Fall. So I signed up for my sophomore fall quarter. I realized that it would be a group of community college students taking classes in English with a professor from the U.S., but I wanted to be in country where I could immerse myself and learn the language. I thought, since I am pretty outgoing, this would be easy. I was wrong.
Although I was able to explore the city and learn about the history and culture of this place I called home for three months, I went home feeling like I had not accomplished what I had wanted. I wanted something immersive so I could learn the language with pressure and meet Argentines or other international students. During my program I lived in with the San Diego students that were on the program. Our classes were hosted in a building, not a university where I may have been able to meet other international students and local students. You can't just walk up to someone on the street and start a friendship and people at clubs are not really looking to make friendships either. It was difficult to get involved like I had hoped during my short three month program. I stuck with the San Diego students and felt like I wasn't really in a different exotic country.

I believe studying abroad is about stepping outside of your comfort zone, but I stayed comfortable. So I would warn students to take a good look at your goals and make sure the program you choose will fulfill those goals. Push yourself to be "uncomfortable." it's when you will learn the most things about yourself and the world. I should have gone for longer in order to have more time to accomplish what I wanted and I should have done my research about how immersive the program would be and what opportunities there would be to get involved in something local. I learned this and will be giving it another go. I will be moving to Chile after I graduate, and will not be going with a bunch of English speaking Americans.
>by Lana Puckett
I am a photographer, amongst other things. I have been to over 30 countries and have traveled extensively across the States. I have taken thousands of images, and have had them used in a variety of publications. People often ask me for tips on improving their images so here are some great tips to get you started
Get the Right Equipment
You are about to go on the journey of a life time. After traveling across the world you will make a million memories, and trust me you will wish to have some way to record them. I would go and splurge on that nice point and shoot you have been waiting for, or if you are interested in getting into serious photography a nice SLR. Because after all isn't a couple hundred dollars worth it to record your adventures for all eternity.
Also I would absolutely get a tripod. Having a way to stabilize your camera is super important if you want to get those nice sunsets or night shots.
Light
Lighting is the most important element in photography. The best time to shoot is typically in the hours right before and after sunrise and before and after sunset. Noon is the worst time to shoot since the shots have too much contrast and will appear flat and will lack detail. Truly spectacular lighting can occur at any time, a great example of this is a storm. Storms often bring high contrast light when they are rolling in or out especially if this is coupled with a sunrise or sunset.
Rule of Thirds
A quick way to start taking better pictures is to use the rule of thirds. Divide the image into 9 segments (3 horizontal & 3 vertical). When shooting landscapes place the horizon on one of the horizontal lines so that the sky is either the top 2/3 or 1/3 of the image, depending what you want to focus on. NOT SMACK IN THE MIDDLE. When shooting a person or animal position the person to the side and put their eyes at the vertical and horizontal junction. NOT CENTERED. When shooting other subjects or multiple subjects try to position them in either the 1/3 or 2/3 left or right positions.
Flash at Night
The flash is the misused feature in a camera. If you are taking night shots of scenery DO NOT USE A FLASH. A flash will not light up the entire city and is therefore useless, instead it will cause your camera to misfocus, underexpose, and you will not get that shot you wanted. Instead set your camera on a steady surface, preferably a tripod, and take a long exposure of your night scenery. You can use a flash at night for portraits but be aware that your subjects will be exposed more then the scenery. Be aware that using a flash in fog or rain at nightwill also probably ruin your shot as camera will focus on the rain instead of your subject.
Fill Flash
A great use for a flash is to light up subject in high contrast shots. An example of this is if you are forced to shoot a person with a strong light source (like the sun) behind them. By using a flash you will add light to their faces there by removing some of the harsh shadows. Although sometimes shots are just impossible (shooting into the sun at high noon, is just never a good idea), a fill flash can be used to improve a wide variety of shots including shots in shade during mid day sun, sunset shots, backlit shots, etc..
Shooting Motion
When shooting a moving object, try to give it space in the direction of motion. For example, if there is a car moving left to right, put it in the left 1/3 of the image leaving the right two thirds empty. Or if you are taking pictures of someone jumping down from above, try to capture them in the top 1/3 or 2/3 of the frame, leaving the bottom as space for them to land. This is a great way to convey that feeling of motion, and failure to do this leaves images that feel confined.
Shooting Portraits
When shooting people, have them turn into the shot. The shoulder to the edge of the frame should be further out then the shoulder at the center of the frame. Also when shooting people be mindful that they are the subject of the photo. As such it is usually advisable for them take up the majority of the shot. Position the awesome scenery behind them. Don't make your subjects, specs on a cluttered background. Make sure to pay special attention to how people fit into the shot. When limbs do not fully fit in the shot, never cut them at the joints (ex: knee, elbow, waist), instead cut them on the arm, torso, or leg.
Simplicity
When shooting in really awesome locations it is often easy to get exited and want to fit everything you are seeing into one image. Unfortunately this produces "busy" images that are cluttered and not very appealing. Instead pick out key elements and focus on them. If a scene is super interesting, it is often better to take dozens of shots each focusing on particular details of that scene, verses one shot that encompass everything.
Leading Lines
Leading lines are natural lines that are present in a scene. They lead the viewers eyes across the photo. Example of leading lines can be roads, buildings, fences, hills, coastline, etc. Leading lines can be a great asset in an image, and it is important to pay attention to them. Find a way to get the lines in your scene to guide the viewer across the entire photo. The lines should start at an edge and extend into your scene.
Break Rules
All these rules can be broken, however it is best to know what you are doing before you break them. For example, while most of the time rule of thirds should be followed, perhaps a certain shot warrants symmetry, and placing the image smack in the center is the way to go.
by Michael Nekrasov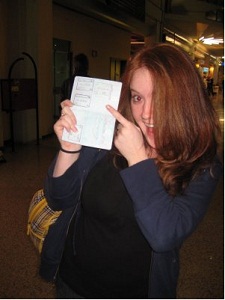 There are some things you just can't learn in a lecture. So, your experience abroad shouldn't be limited to the classroom. One of the most exciting aspects to studying aboard is having the freedom to travel and see the world. But traveling on a student budget isn't always flexible.

Something basic to remember when traveling is to do your homework; research and plan ahead! Save time and money by booking your hostels and transportation ahead of time. This is especially important if you are traveling for a short period of time. Planning ahead will guarantee that you have a place to stay for an affordable price. Also, use guidebooks to find out the appropriate prices for goods and services and know the currency exchange rate so you don't get ripped off. So, here are some tips and tricks for getting the most out of your travels for the least amount of money.
Hostelling
Hostelling can be one of the most social and affordable ways to travel. Staying in a hostel allows you to meet like-minded travelers and usually gives you great insight on local attractions.
Location, location, location…
Hostels located closer to the city center often cost more money but getting transportation into the city center may be costly too.Weigh the options and see what works best for you.

Look for hostels that serve breakfast and/or have a kitchen.
Going to the grocery store and making food instead of dinning out will significantly lower your spending.
Amenities!
Research the hostel and what it provides as part of the price. You don't want to show up and have to pay extra for everything else. Websites like Hostelworld.com will show you everything from user reviews to a list of included amenities.
CouchSurfing
It's free, safe, and all over the world.
CouchSurfing is an online community through which people offer up their couches to travelers for FREE! The website is very safe with member profiles and participant reviews that cannot be deleted. This is an amazing way to travel on a budget, meet new people, and get a local's perspective on a city.
Planes, Trains, and Automobiles
Budget Airlines
Use sites like studentuniverse.com and skyscanner.net to compare airline prices. If you're flexible with your travel dates you can find the best deal.
Things to know
Budget airlines usually fly into smaller airports outside of the city. You will need to find transportation to and from the airport. Most airports offer shuttle services into major cities.

The flight may be cheap but the extra charges can be overwhelming. When flying with a budget airline try and limit your luggage to carry-on only. You will be charged for every piece of checked luggage you have. Also, food is NOT free so fill up before you get on the plane or bring a snack.
Trains
Trains are an excellent way to travel from city to city and country to country on a budget. Trains are often cheaper than planes and give you the opportunity to see a country as you travel through it.
Train passes
Inter Railing through Europe has its benefits – a set price for all your train travel within a certain period. This is particularly beneficial when traveling through Western Europe where prices can get a bit more expensive. However, there are many restrictions with Inter Railing so make sure you're getting the best deal by purchasing the pass.
Bussing
Bussing from place to place can be the cheapest way to travel. Busses are usually on a schedule so it's easy to find one that works for you. Coach busses can be pretty comfortable and just as amenable as planes and trains but can take a lot longer. For relatively short distances, bussing might be the best way to go.
Take Advantage of Being a Student!
Find opportunities in the city you are visiting that are geared towards students or budget travelers.
Free Walking Tours
This is a great way to experience a city, see the sights, and get advice on local attractions. Look online for free/budget tours in a particular city.

SANDEMANs New Europe offers free walking tours in various cities across Europe and Israel. There will be information about the tours in most hostels in the cities in which they are offered. Otherwise you can check them out online or look for the people in the red shirts!
Student Discounts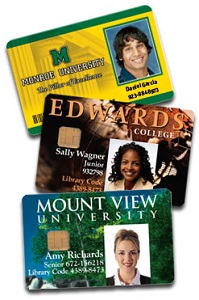 Lots of museums and tourist attractions have special discounts for students. Also, many of these places have free entrance on certain days and times.

Invest in an ISIC Card to gain access to student discounts in the most likely and unlikely places. Review the website to find discounts all over the world. With or without an ISIC Card, bring your host university student ID and/or your UCSD student ID with you when you travel. It never hurts to ask if a student discount is offered!
Travel Packages
Travel packages can be a budget traveler's best friend. They often offer all-inclusive packaged deals that include roundtrip flight, accommodation, and meals. This is especially helpful when traveling in Latin America and other places where airfare can be a financial burden on its own. For the best deals check out Travelocity, Priceline, and Travel Zoo.
Low Season Travel
Know your seasons for the best travel bargain. During the high season traveling can get mighty expensive. However, price-cutting, freebies, and special offers become the norm during the low season. Another plus to low season travel is the perk of missing the crowds of tourists, long lines at all the major attractions, and overwhelmed locals. Remember as the temperature rises so do the prices!

Traveling can be one of the most rewarding experiences while studying abroad. You'll meet new people, encounter new cultures, and learn things you never could in a classroom but you might not be afforded the same luxuries as you're used to when traveling on a budget. The most important thing to remember is to stay positive, be open-minded, and have fun!
by Rachel Davey

Finishing up a language requirement abroad is fun and relatively quick. When I was looking to study Spanish in a Spanish speaking country, my first online results were mostly American provider programs that give you options for different organized semesters or summer programs abroad. Since I wanted to start my program in mid October and only study for 3 weeks, my options seemed limited. My friends had studied Spanish in Argentina while they were snowboarding all winter (June-August). So I looked into their school and realized there are tons of Spanish schools that you directly enroll in the country you want. By searching "Spanish language schools in Buenos Aires", I came up with results of schools that you don't go though a third party to enroll and study at. It was cheaper, but took a bit more initiative and organization on my part than just handing over money to an American sponsor. I ended up studying in the beautiful Andes Mountains in Bariloche, Argentina. The school, ECELA, rented houses to be student houses and also had host families available for those interested in being even more immersed. They also organized volunteer opportunities and helped you get used to living in the town.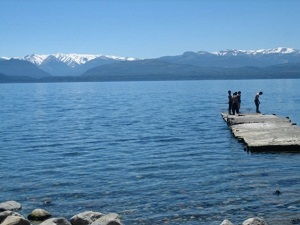 Students could have transcripts sent to their home universities for credit if they paid a bit more. I lived in the house, with two British in their late 20's, a Chinese man, an older California man with his two college aged sons, and a house dog. I made friends with Canadians, Swedes, and Dutch people. Being around these people motived me more, they were there for the same reasons as me and had the same goals of learning the language and culture. My experience was amazing and I learned tons from the small class size and Argentine instructors in a mountain town that I hadn't known existed a few months prior. There wasn't a huge English speaking tourist population. I would recommend getting out of the huge capital cities in order to be more immersed in a Spanish speaking community.
by Lana Puckett
Campus size and location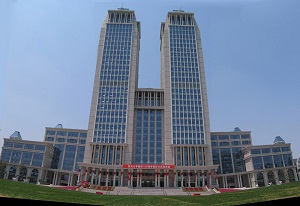 Fudan is located at the heart of Yangpu District, a relatively old district currently undergoing some major construction. Although there is not much to do around the school, popular destinations like major malls and squares are just a subway ride away. Those of you who are quite fond of the nightlife will be a bit discouraged to know that Fudan University is a bit out of the way of many of the well-established clubs and bars. Getting to these destinations will require a cab; it would behoove you to adopt a habit of promptness, as cab rates rise after 11:00PM. The layout of the university campus is reflective of Shanghai's metropolitan spirit. Although older buildings from previous decades still stand and are in full use, classes are also taught in Fudan's signature high rise building, the Guanghua Towers.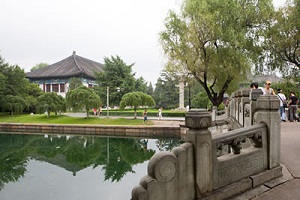 Peking University (Beida) is located in northwest Beijing, in Haidian district, which is concentrated with numerous well-known universities. The university campus is located in the former site of Qing Dynasty royal gardens and it retains traditional Chinese-style landscaping including traditional houses, gardens, pagodas as well as many notable historical buildings and structures. The campus even has its own lake that students can skate on in the winter. Unfortunately, like Fudan, major bars and clubs are a bit of a drive from the university; however, there are various local restaurants, bars and clubs near the university that are arguably just as good. Pepper Bar is a local gem.
Extracurricular Activities
Both of these universities have a consortium of clubs and on-campus organizations, ranging from that of recreational to professional nature. Every semester, campuses hold informational, student-run "Club Days," very similar to UCSD's club recruiting on Library Walk.
Prestige/ Reputation
Peking University is hailed as the Harvard of China. It is considered the forerunner of social sciences (especially political science and economics) of all Chinese universities.
Fudan University is also one of the most prestigious universities in China. Its prestige and status can be likened to that of Stanford here in the United States. It is considered a leader in the area of economics and American studies.
Food
On-campus dining on both campuses primarily consist of Chinese food and some (albeit of poor quality) western food. Overall, the quality of on-campus dining is better at PKU; however, both campuses have an assortment of options for nearby off-campus dining. Don't be afraid to explore – most of the tasty stuff is off-campus!
Gym
The student "gym" at Fudan University is quite sub-par by all western standards. Although there is enough equipment to get through a basic workout, one is likely to find himself bored with the meager amount of equipment. While attending Fudan, your best outlets for exercise are jogging/biking around campus and intramural sports teams.
Peking University does offer a gym to its students; however, there are membership fees similar to private gyms. Although the location is convenient for anyone living on campus, the equipment is a bit old and floor space is a bit limited. If you're willing do dish out the cash, there is a 24-Hour Fitness near the edge of campus.
by David Huang
Here is a pictorial representation of some weekend Excursions I had in China. With 7 different types of climate regions, China seems more like its own continent than country. Buy a Lonely Planet guide, round up some friends and experience the best part of studying abroad in China!
by David Huang
People & Culture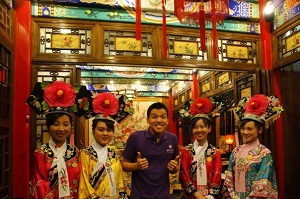 Shanghai is a highly business and commercial oriented city. It is arguably the central hub of international business in China. That said, the city and its people fully embody the hustle and bustle of the modern metropolis. It is commonly generalized that because of their business-oriented, time-is-money culture, the Shanghainese are temperamental and impetuous; however, if you actually take the time to get to know an individual, you'll find that this is certainly not true.
Beijing is the political hub of China. Correspondingly, you'll find that many of its residents are politically aware and politically opinionated. It would not be surprising to find yourself engaged in discussion about the latest policies of Ao ba ma (Obama) with your next taxi driver. Especially following the 2008 Olympics, I have found that many Beijingers are very nationalistic and full of Chinese pride (but also very friendly to Americans).
Food

There are four regions/flavors of Chinese cuisine: Northeast (Beijing), East (Shanghai), South (Guangdong aka Cantonese), West (Sichuan)
North/Beijing – salty, robust tastes; lots of meat and wheat products; traditionally generous portions
East/Shanghai – sweet, delicate tastes; large variety of sweet and savory foods; traditionally humble portions
South/Guangdong – large variety of vegetables and meats; large variety of dimsum and snack foods
West – numbingly spicy flavors (ma la); heavy use of peppers and spicy oils
Notable foods
Shanghai:
Xiao long bao (steamed dumplings), sheng jian bao (pan-fried dumplings), Yangzhou chao fan (Yangzhou fried rice), da zha xie (seasonal Chinese mitten crab)
Beijing:
Beijing kao ya (Peking duck), hong shao rou (soy sauce roasted meat), za jiang mian (ground pork dry noodles), niu rou mian (beef soup noodles)
Living Expenses
Prices between Shanghai and Beijing are comparable, as they are equally large metropolitan cities
Exceptions: transportation prices (taxi, subway) are slightly lower in Beijing than in Shanghai
In street-level stalls, many merchandise prices are negotiable. However, it will be up to your cunning and haggling abilities to get a good deal.
Transportation & Getting Around
Shanghai: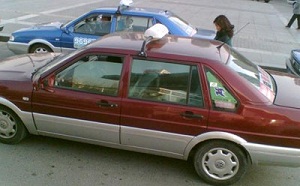 Very developed subway system – you can pretty much get anywhere with the combination of buses and subways. Be sure to buy a transportation card that allows you to access buses, subways and taxi cabs! Taxi cabs are readily available, but if you can, avoid the maroon-colored cabs (each cab company is coded by color; maroon-colored cab drivers supposedly have the least liability to their employers, so avoid them when you can) "Tut-tuts" are readily available around subway stations; although they are officially illegal, they are a financially prudent method of getting around short distances
Beijing:
Has a subway rail system, but it's not as extensively developed as Shanghai's; a transportation card would nonetheless still be useful
The city of Beijing is divided by "rings," the center of which is Tiananmen Square and Central Government buildings. As one can imagine, the density of population increases as you go towards the center of the ring. Try to avoid these areas during rush hour. Cabs are also readily available; tut-tuts are less common in Beijing (probably due to stricter legal enforcement)
Weather
Shanghai:
The seasonal disposition of Shanghai can be most likened to that of Chicago. In the summer, one would experience near-suffocating heat and humidity and during the height of winter, blistering cold under heavy windchill. During the summer, expect much of your time spent indoors under the comfort of your overworked AC; at night, one would find some, but little solace in the departure of the sun as the humidity is a omnipresent constant during a Shanghai summer. During the winter, expect wind and cold, but no snow. Dwellings in the southern half of China (nanfang) are not designed for heat insulation, so it would be wise to make sure your heater is working properly.
Beijing:
The principal difference between Beijing and Shanghai is humidity. Where Shanghai is wet and humid, Beijing is dry and arid. Its proximity to the Gobi Desert likens its summer weather to that of the California inland. During the winter, expect a few days of snow but extreme Moscow-esque cold. Fortunately, nearly all buildings in Beijing are fitted with insulation systems, so you would not need to worry about keeping warm while inside.
Suggested Apparel for Summer
Guys: shorts (basketball and otherwise), sandals, tank tops, light knit t-shirts
Girls: shorts, skirts, summer dresses, sandals tank tops, etc.
Suggested Apparel for Winter
Thermal tops and bottoms (long underwear), scarves, gloves, heavy jacket, sweaters, thick socks
by  David Huang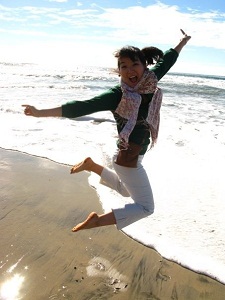 There are some things you just can't learn in a lecture. So, your experience abroad shouldn't be limited to the classroom. One of the most exciting aspects to studying aboard is having the freedom to travel and see the world. But traveling on a student budget isn't always flexible.
Something basic to remember when traveling is to do your homework; research and plan ahead! Save time and money by booking your hostels and transportation ahead of time. This is especially important if you are traveling for a short period of time. Planning ahead will guarantee that you have a place to stay for an affordable price. Also, use guidebooks to find out the appropriate prices for goods and services and know the currency exchange rate so you don't get ripped off. So, here are some tips and tricks for getting the most out of your travels for the least amount of money.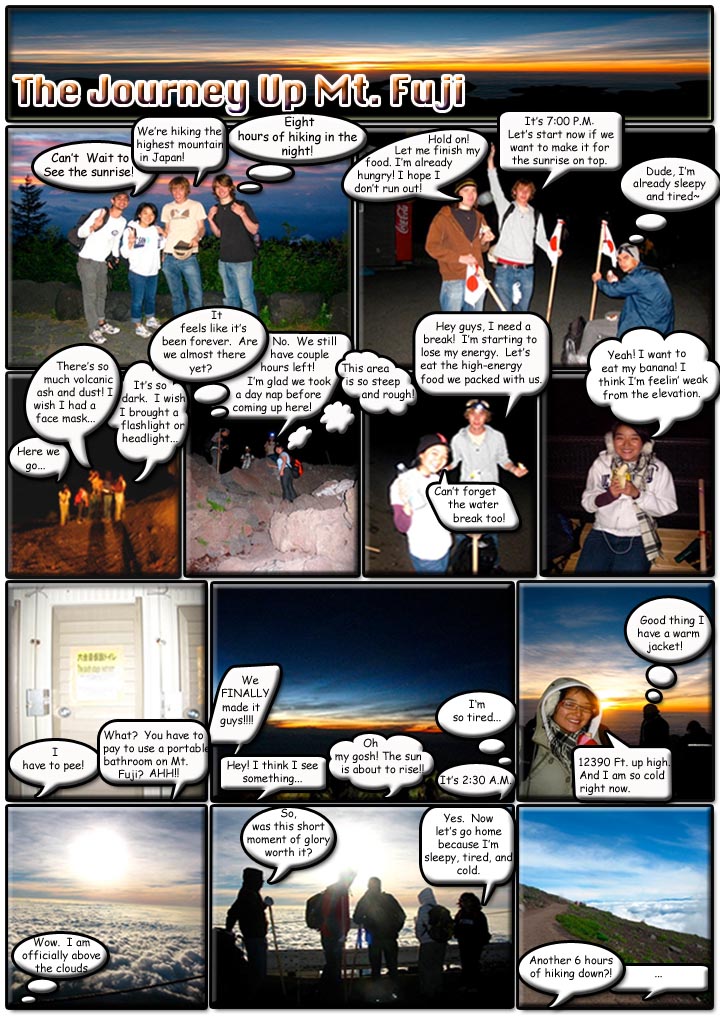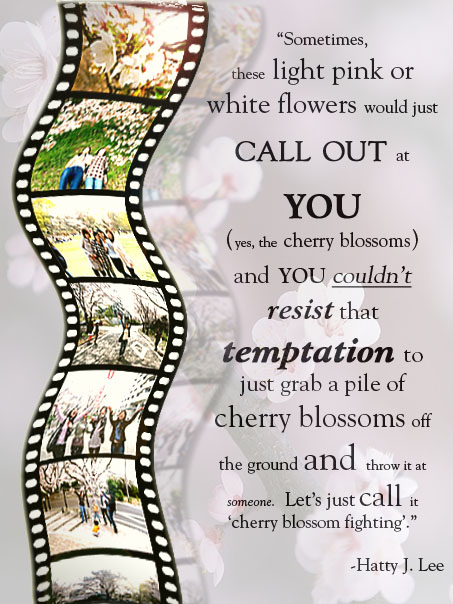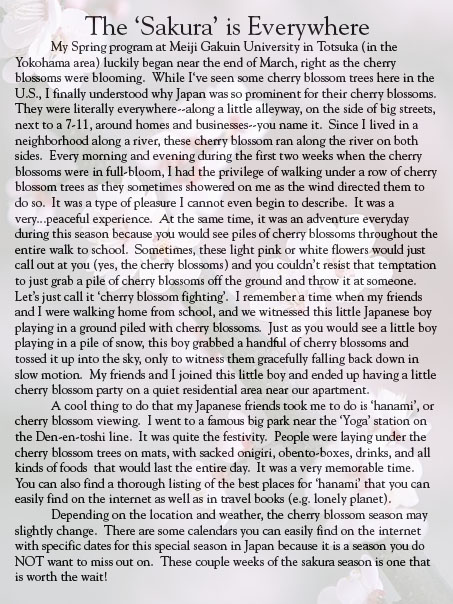 by Hatty Lee
I suppose the little natural wonders of New Zealand are things to point out to tourists but I am now speaking out of slight bitterness that they were so time consuming to get to and not as amazing as they were described to be. The journey there was actually what made these little quirks memorable.
Our first mistake was the Moraki Boulders. I had seen a post card of it at the airport and wanted to see it in person. We left Christchurch around 1 and drove with haste hoping to make it to the boulders before sunset. However, when we got there the sun was barely giving us any light so it was hard to get a nice picture. I suppose one can sit there hopping from boulder to boulder, wondering how they got so round but it was getting cold so we had to head back to the car.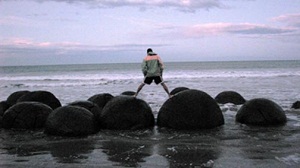 I had pictured something amazing but they were just extremely round large rocks along a beach. Because we took the time to get to the boulders, the storm came when it was my turn to drive. It was my first time driving on the right hand side and the road became dark, jagged, and windy. What made it even more stressful was that the drivers on the road were tailgating me and urging me to drive faster despite the hazardous weather and road conditions. I wasn't allowed to drive again for the rest of the trip because driving to Dunedin was so traumatizing for the passengers.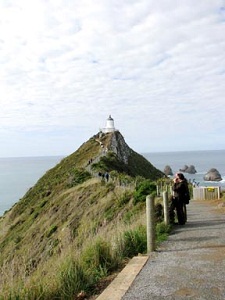 After spending the night in Dunedin, we left in the morning and had until 5pm to get to Bluff Point to catch the ferry to Stewart's Island. Despite this deadline we decided to take the scenic route to the Catlins to see Nugget Point and the Petrified Forest.

My boyfriend at the time really wanted to see penguins and we heard that we could see some at Nugget Point (the Otago Peninsula near Dunedin would have been a safer bet). We went an hour out of our way and did not see any penguins but we did see a walrus stuck on a little rock formation protruding from the ocean.

The most hyped up site was the Petrified Forest. We all pictured a forest made of fossilized trees sticking out of the ground looking pretty dead and gloomy. However, it was just a solid flat beach with bits of bark imprinted into the ground and lots of snail shells. My friend who insisted we see the place ran around with great enthusiasm while the rest of us stood there in anticlimactic stupor. The Petrified Forest was a total of 2 hours out of the way and we were getting extremely low on gas. (Not that we were irresponsible, we had a half tank by the time we reached Nugget Point, we just thought that there would be gas stations on the way BUT it being Easter Sunday – the little gas stations were CLOSED). It was pretty epic and scary because we risked being stranded in the middle of nowhere and missing our ferry. We had 2 cars both low on gas, Marius, the other driver had a bit of reserve gas that we split. We barely made it to Invercargill when Marius' van finally gave out 500 ft away from the gas station. We had to push for part of the way before passing a house of punk rockers fixing cars with a little Doberman named Girl. They sold us enough gas to drive to the station and we barely made it in time to catch the ferry.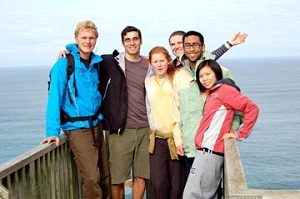 All in all, as I'm writing this article I can't help but find humor in our near misfortunes. Now that I look back, the adventure was surely memorable even though the trip did not come out as planned. I suppose it's also all about attitude and what you take away from it. As you look at my photos I know you're thinking that they're amazing and I'm crazy for taking my trip for granted. But that's just it! That's how we got into the ruts to begin with due to the amazing pictures other people took. My moral of the story is that a picture holds a thousand words but those words may not be worth the effort it took to take the picture. Sometimes tourist traps are just that traps, so don't be afraid to look outside the box to see the country you are in.
by Shirley Pon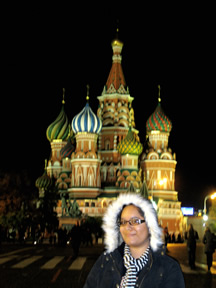 Living with a host family while abroad is one of the best ways to meet people, learn about their culture and daily life, and practice speaking another language. Some programs require their students to live with a host family, while others keep it optional. I will admit that when I was applying to my study abroad program in Russia, I felt hesitant towards the idea of living with a Russian family, as I was told that my host family would probably not speak any English and the image of the awkwardness that would ensue because of this caused me a great amount of anxiety. So I opted to live in the dorms, with students from the US, Russia, and other countries such as China, Germany, Turkey, and Finland.
Although I lived in the university dorms while abroad, I still got the opportunity to meet a Russian family – in fact I got to meet two. About half of my study abroad group was doing a home stay and before moving in, they got to go to dinner with their prospective families and see if they liked it enough to stay for the remainder of the semester. It was a way for them to at least know a little about their host family before the move-in date so as to ease the tension. A girl from my program asked me to go with her and I accepted. It gave me a chance to speak Russian and help my non-Russian speaking friend out during her first meeting.

Despite feeling anxious, I had a great time. My friend's host mother is named Ludmila, and she lived in a cozy apartment not too far from campus with her 21 year old daughter (a university student) and her mother. As soon as we entered their home, all the members of the family treated my friend and I warmly. It was great to get to know Russians in their own home, and to get a home cooked meal. The family did not know English (only a few words) but spoke slowly and repeated words whenever I didn't understand. They also had several Russian-English dictionaries ready to use whenever one of us was totally lost. Despite the language barrier, we talked for a couple of hours – they wanted to know everything about our lives in the US, our cities, our schools, etc. At the end of the night, I was showered with hugs, little gifts, and another invitation for dinner at a later date. The experience made me appreciate being in Russia so much more, and it also made me feel welcome and at ease. I know that this really helped me open up even more to the culture and to speaking the language.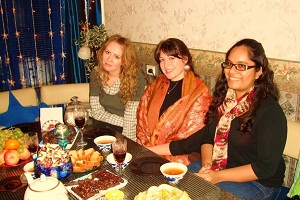 The second dinner with a Russian family happened entirely out of chance. I was at a nearby shopping mall with my suitemate on a rainy day, when a shoe saleslady began speaking to me, asking me where I was from. I told her I was from the US, and from California and she began to talk excitedly about how her daughter, a university student, has studied English for many years and would I mind writing down my e-mail address so she cold contact me?

To be honest, I didn't really expect the daughter to write me back, but she did. We arranged to meet later that week after I was done with class. I decided to take my suitemate with me because I felt strange going to a stranger's house all by myself. The daughter, Nina, turned out to be quite lovely. She brought us into her home and we had dinner with her mother and brother. As guests in a Russian home, we were fed quite well, I might add. Nina's mom made pizza and we also had juice, soda, fruit, bread with butter and red caviar….it was all very delicious. Nina is an aspirantka, or a grad student. She is studying sociology, but she told us that her great love is writing. We spent a lot of time just talking about everything that we could think of; we were at her house for over five hours! Russians are very passionate and can have deep, philosophical conversations just sitting with you and drinking tea. It was great to be able to get to know her because she really is one of the strongest people I have ever met. I feel lucky to have been able to meet her.

For those of you thinking about doing a home stay, I say, "Do it!" And if you still don't know whether a home stay is right for you, then you might consider trying to visit the home stay of another student in your study abroad group. Whatever your situation is, it would be helpful to remember these small tips:

Don't be shy! I am usually very shy with strangers, but in Russia I tried to tone it down a bit. And anyway, I figured that I probably already sounded kind of funny to them anyway – so don't be afraid to speak to the natives! Use those three words you know, or show them how fluent you are. I cold tell that Russians appreciated when I tried to actually speak their language.

If you do participate in a home stay, or are invited to someone's home, be polite! In Russia, it is customary to bring a gift, such as flowers or chocolate, when going to dinner at someone's house. Many study abroad programs suggest that you bring and "American" gift as well so that the home stay family will get to know your culture better. Students in my program brought anything from sand from a beach in Florida to maps of their State. Be creative.

Invest in a pocket Dictionary. This will help the conversation run smoothly, and will also show that you are serious about learning their language. Even if you have a great command of the language, a Dictionary might prove useful when trying to decipher slang or colloquial language.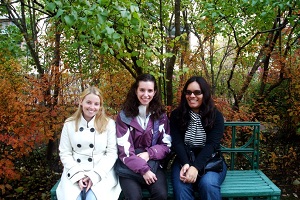 Be respectful. Regardless of whether you are a guest for the evening or for the entire semester, abide by the rules of the home. If you're staying with the family for the semester, ask them if there are specific things that they would like you to do, like cleaning your own room and buying your own groceries.

Ask questions! The family will probably want to know a lot about the USA and your life there, but don't talk about yourself the whole time! I remember I asked Ludmila's mother about her life in Communist Russia, and she actually brought out an old photo album.
by Betsy Gomez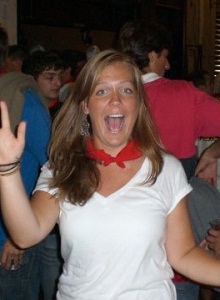 A short monthly guide to some of the rowdy, entertaining and often nonsensical festivals that Spaniards celebrate every year! Click on the links below to readmore about each festival and see some pictures.
January:
El Dia de Reyes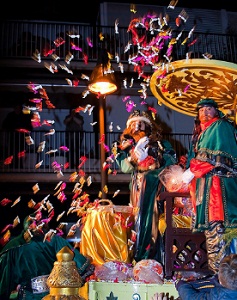 The same way children in the United States wait for Santa Claus to bring presents on December 25, children in Spain anxiously await the coming of Los Reyes Magos (the Three Kings) on January 6. The night before the coming of the reyes, towns all over Spain hold parades in which characters on elaborate floats throw candies to children watching on the street. The last floats of the procession, or Cabalgata, typically host the three kings. That night, kids leave their shoes out in anticipation of what the reyes might leave for them.
Traditional food for Dia de los Reyes includes roscón, a ring shaped cake covered in sugar and glacier cherries. Inside the cake is a tiny toy and whoever gets this figurine in their piece of cake is said to have good luck in the coming year.
February:
Carnival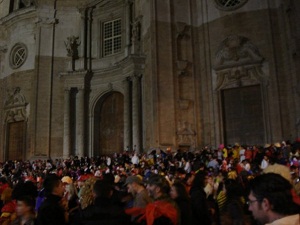 Easily the largest celebration of Carnival in Spain and one of the biggest in the world, Cadiz hosts throngs of merrymakers celebrating the last days before Lent. Streets are crowded with revelers and performances take place throughout the festival. Carnival in Cadiz is famous for it choirs and quartets of singers, as well as chirigotas, groups that perform satirical pieces about anything from politics to pop culture to current events. 
Like many festivals in Spain, hostels in Cadiz are hard to come by during carnival. If you are up to it, a possibility is to travel to Cadiz for the day by bus to get a taste of carnival without wearing yourself out. I took a bus from Granada that arrived in Cadiz around 1 p.m. and left on a return bus at 5 a.m. the following morning. It was exhausting, but I was about to witness carnival by day and night and sleep on the way there and back. If you are going to carnival, be sure you have a costume. Groups of friends typically dress up in matching garb so, plan with your friends before you go!
March:
Semana Santa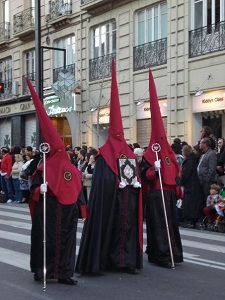 No, that's not the KKK! The hoods worn during the processions of Holy Week signify the morning of the death of Jesus Christ and are removed to celebrate his resurrection on Easter Sunday. The dates for this famous festival change every year to coincide with the week before Easter but typically fall in March. Catholics and non-believers alike can marvel at the spectacular processions, which can have quite a somber mood. Andalusia is the region most famous for its celebration of Semana Santa and hostels in Granada, Sevilla, and Malaga can book up to a year in advance. I would recommend planning early or trying to stay with other friends who are studying abroad if you want to be in Andalucia for Holy Week. Also, to an outsider or non-religious visitor, each day of Semana Santa may seem quite similar to the day before, so I suggest visiting for just a couple of days to witness the festivities but not overdo it.
Daily processions include beautiful, intricately decorated floats, typically one of Jesus Christ and one of the Virgin Mary. These floats are usually extremely heavy and carried on the backs of around forty men. Slowly stepping in unison to the beat of coronets and drums, it is impossible not to be awestruck as the processions pass by. You can find schedules of the week's processions and maps of the routes either online or at each city's tourist office.
April:
Feria de Abril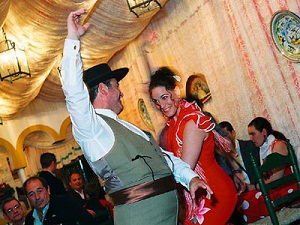 Each Spring, Seville's young and old alike gather to celebrate the Feria de Abril. Feria officially begins on Tuesday at midnight, two weeks after Easter and runs for six days and nights, until the following Sunday. The town sets up a temporary small city of casetas, or tents, where revelers dance and drink until sunrise. Each caseta is hosted by a particular group: aristocratic Sevillana families, clubs, trade unions and political parties all host tents which may be private or open to the public. Friends who have attended Feria complained that it can be kind of difficult to get into tents, but the jovial atmosphere makes it worth battling the elitist attitude of some casetas.
For Feria, the women of Seville dress in brightly colored flamenco dresses and men wear the traditional traje corto (a short jacket, tight trousers and boots). During the day, a spectacular parade of decorated carriages and the city's elite as riders makes its way to the bullring. You can catch a traditional bullfight at 5:30pm each afternoon of Feria and tickets can be purchased at the ring.
May:
Festival de Patio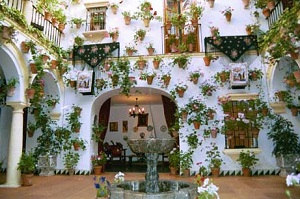 What better way to get an inside look at Spanish life than by taking a peek at the spaces in which Spaniards live? During the second week of May, visitors can tour the brilliantly colorful patios of over fifty private homes to experience the city's oases in full bloom. Tourists wander from home to home to listen to the trickle of fountains, smell fresh blooming jasmine, and discover hideaways overflowing with pots of geranium. Visit a local business or tourist office to get a map of the patios that are open to visitors.
June:
Dia de San Juan
Summer solstice, the shortest night of the year, is celebrated by the festival of San Juan in regions all around Spain, but is of particular importance in cities on the coast. On the night of June 23rd, friends and loved ones of all ages gather on the beaches for bonfires, food, drink and good times. According to tradition, one can purify oneself and change luck from bad to good by jumping over a bonfire three times. At midnight, people bathe themselves in the ocean in order to wash away evil spirits, and according to some, to make three wishes come true. The whole celebration can be quite an experience just to watch. Be sure to bring a sweater, plenty to eat and drink, and be ready to see the sun rise.
July:
San Fermin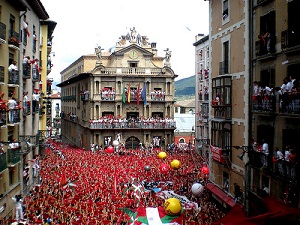 I recommend avoiding the chupinazo. I neglected to heed to this advice and went into the plaza where it took place with two friends. We were split up by the intense crowd and there was no way to get out. When I did escape I was covered in sweat, blood (not my own) and wine. Also, if you don't want to be pegged as a tourist, be sure to wear all white, a redpañuelo and closed toed shoes. And be prepared for your clothes to get ruined. The pañuelo, or handkerchief, can be bought from street vendors for around 6 euros and should be tied around your neck starting at noon on the 6th (no earlier). The running of the bulls, el encierro, can be viewed either by staking out a place to watch along the street or by gathering in the stands at the plaza de toros. If you do make the unwise decision to try to actually participate in the encierro itself, be careful. Fifteen people have been killed and thousands injured in accidents during the run of the bulls.
August:
La Tomatina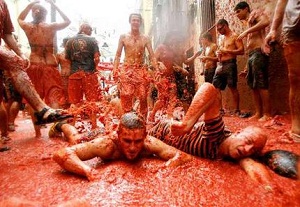 On the last Wednesday of August, in the little town of Buñol, Valencia, residents and tens of thousands of visitors flood the streets for a tomato war. For two hours, tons of juicy red tomatoes are flung through the air at everyone in sight. Later, young and old alike gather in the town square for wine, food, and festivities. There are few accommodations in the town of Buñol, so many participants stay in Valencia and take a bus (38km) to the town for the day. Hostels and hotels fill up quickly though, so plan ahead.
September:
La Fiesta de la Mercè
La Fiesta de la Mercè, Barcelona's largest festival, celebrates Catalan culture for several days at the end of September. The festival is held in honor of Our Lady of Mercy, the patron saint of Barcelona. The city is full of activity, with parades, concerts, fireworks, air shows and sports events taking place all over. One of the most famous events is the correfuc, or fire run, in which community groups dressed as devils run through the streets with handheld fireworks. If you are partaking in this portion of the festivities beware of sparkler flames that often shower the crowds. Another fascinating tradition is the human towers, an event that thousand of people pack in the Placa de Jaume to see. Most events take place within walking distance of the downtown area or can be easily accessed by Metro.
October:
Fiestas del Pilar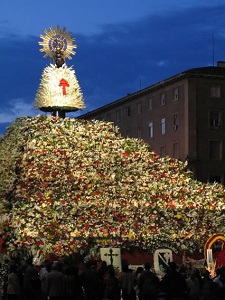 On the 12th of October and for nine days before, Zaragoza comes to life with parades, music, flowers and theater in celebration of the Fiestas del Pilar. Trails of flowers lead to the Plaza de Pilar as an offering to the Virgin of Pilar. Hundreds of pilgrims arrive daily to kiss a piece of the pillar in the Holy Chapel of the Basilica on which the virgin descended. Festivalgoers dance in the streets to reggae, jazz, pop, rock, flamenco and folk music as well as take part in a distinctive type of dance called the Jota. At night, celebrations take place in the part of town known as "El Tubo," an area packed with bars. Nighttime activities also include fireworks and a lighted fountain on Paseo de los Bearneses.
November:
Festivales de Cine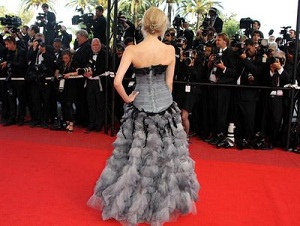 All through the month of November, Spain hosts film festivals throughout the country. The festivals attract all kinds of viewers, from the Horror and Fantasy Film Festival in San Sebastian to the International Gay and Lesbian Film Festival in Madrid. The following is a list of the film festivals taking place in November. Check online or at a local tourists office for more details.
October 20-November 4 - 17th Annual Horror and Fantasy Film Festival in San Sebastian.
November 1-30 - Alcine Film Festival in Alcalá de Henares, near Madrid.
November 2-12 - International Gay and Lesbian Film Festival in Madrid.
November 3-11 - Seville Film Festival
November 4-11 - Festival Internacional de Cine Independiente de Ourense Independent film festival in Ourense, Galicia.
November 10-18 - L'Alternativa Barcelona Independent Film Festival
November 18-25 - Latin American Film Festival in Huelva, Andalusia.
November 23-December 1 - Gijón International Film Festival in Asturias, northern Spain.
November 27-December 2 - International Festival of Documentary and Short Film in Bilbao, Basque Country.
December:
Nochevieja
New Year's Eve in Spain is celebrated with some unusual traditions. Puerta del Sol in Madrid is the center of the country's festivities, somewhat akin to Times Square in New York City for the United States. Everyone lucky enough (or unlucky enough depending on how you look at it) to be in Madrid packs like sardines into Puerta del Sol around the central clock. My advice for Puerta del Sol is just to know that you will be packed in with every other person who wants to be part of the excitement for just a few minutes of fireworks and confetti showers. Might be worth it, might not depending on your opinion.
People all over Spain have twelve grapes ready to eat as the clock counts down the last moments of the year. At each campanada, or gong, one must eat a grape to assure good luck in the coming year. Nochevieja signifies the ending of a year of festivals for Spaniards, or maybe the beginning, depending on how you look at it!
by Marry Morris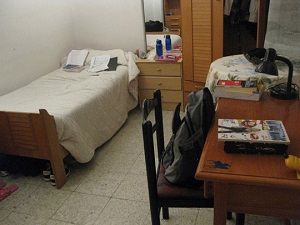 "Wait, we don't eat paella every day?" After my first meal in a Spanish home stay being paella, I assumed that every day would consist of the warm aroma of rice and seafood boiled into perfection with a dash of saffron. Little did I know that in the coming months, my stomach would be filled with more variations of guizos (stews) than I ever thought possible. Coming into my home stay, I had general expectations of having a family that would take me into their arms and adopt me as their foreign child, taking me to all the local places. I expected deeps conversations that would break cultural barriers and bridge vastly different worlds together. It's not to say that none of my expectations were met, but I quickly learned that home stays are unique in nature, bringing different experiences to different people. Luckily for me, I ended up experiencing multiple spectrums of home stays as I changed homes after a month into the program.
My first home stay was your typical old aged "senora" whose children were all grown up, consequently leaving her 3 bed apartment partially empty..although her daughter lived next door so I guess they didn't travel far. In addition, my senora was quite the seasoned host as I was her 16th exchange student! So I came into my home stay eager and ready to be "open minded" - words constantly repeated in our orientations. For the first couple of days, I was willing to do everything and anything. I mustered up enough courage to initiate conversations with my senora, I ate everything that I was fed (even if this meant meat as I was vegetarian before Spain), and I even sat through episodes upon episodes of telenovelas (which I quickly became addicted to). However, within a couple of weeks little things started to show up that made me feel more uncomfortable, in addition to being in a foreign country.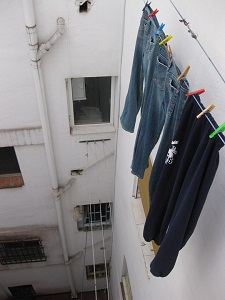 My senora started treating me as her child, which was what I thought I wanted except she would scold me for eating too much bread (who can resist carbs...) or lecture me on using my computer only for school work. All these little issues started adding up and I no longer felt comfortable in what is supposed to be my "home" for 4 months. However, the last straw was when the toilet broke, forcing me to walk 20 minutes to school just to use the restroom. I brought up the issue with my senora, who couldn't believe that after 16 exchange students, I was the first one to complain about her toilet. I talked to my housing director who then talked to my senoras daughter and before I knew it, I had to confront my senora once again. Although frustrated, I kept to those words "open minded" and promised myself to just stick to the home stay until the end of the month.
By the end of 4 weeks, I was losing weight and growing bitter towards my senora. I stopped talking during meals and quickly realized that at this rate, the purpose of home stays will be lost as I rarely practiced my Spanish. So I contacted my housing director and made an official claim to change my home. A part of me felt guilty for leaving my senora, especially because I would be ruining her track record of 16 successful exchange students. I wanted to be able to adapt to new environments but I'd reached my limit. I knew that if I chose to stay, I would ultimately be responsible for whatever came of my experience in Spain.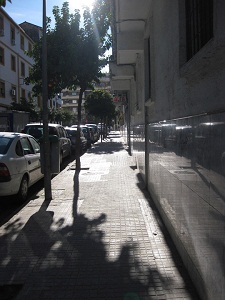 For my second home stay, I was in a smaller apartment with a single middle aged woman. A complete contrast to the typical home stay "family" experience I imagined but it fulfilled everything else I wanted in a home stay. I had more opportunities to practice Spanish as we talked about life, boys, religion, news, Spanish culture, and swapped stories about our days. My conversations with her broke the stereotypes I had about Spaniards and likewise for her with Americans. Although politics is rarely a topic of discussion in any household, I had to opportunity to see and hear about the unemployment crisis in Spain on a personal level as she jumped from interview to interview, oftentimes with tears in between. I enjoyed greater freedom and independence, but most importantly, I developed a relationship with my senora that made me more than just a student paying her to feed and house. Never once did I feel like I was restricted by the housing rules or that I was a form of income for my unemployed senora, despite the fact that it was the case. I was treated more as a friend than a child and thus, realized soon enough that there was nothing wrong with my first senora - we were just expecting different things out of the experience. In one house, I was seen as a child to care for in an empty nest, while in another I was a companion and temporary apartment mate.
I wouldn't say that a home stay can make or break your experience because in the end, it's up to you to make the best of any situation. However, there's definitely no shame in changing homes as one of my friends switched after a week. Home stays are for your benefit and if you're not comfortable or happy, then be responsible for it and do something about it. I don't regret changing home stays at all as it not only enhanced my cultural experience in Spain but gave me a unique perspective on life as a Spaniard. Nor do I regret choosing a home stay option as part of a program because with both senoras, I saw the diversity of Spaniards I never would have seen on the streets.
by Pauline Lee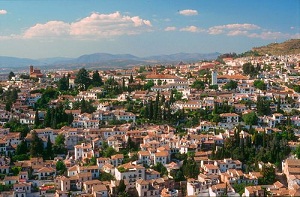 From the day I entered UCSD, I knew that I wanted to study abroad in Barcelona. The big, cosmopolitan city seemed like the perfect place for to me to practice Spanish, get to know Spain, and visit the rest of Europe on the weekends.I had heard of Barcelona from friends and family who had visited Europe and seen images of it in movies like L'Auberge Espagnole. It seemed like the city for me and up until the last minute, I didn't really explore other options until I saw a friend who opened my eyes to Granada.
While I was completing the EAP application, a friend of mine who had studied abroad in Granada suggested that I consider studying there. My heart had been set on Barcelona for a long time so I was not easily swayed. I had never even heard of Granada and didn't want to be in some middle of nowhere town in Spain. My friend told me about the lively culture, warm people, and vibrant festivals of Southern Spain. He was a well-traveled student studying abroad in San Diego from Scotland, so I really respected his opinion about all things international. The more I talked with returnees and read about the city, the more I was convinced it would be the perfect place for me. I had not considered that in Barcelona people spoke the regional language, Catalan, as well as Castilian Spanish, and that in such an international city many people would speak English. In Granada, I would be forced to speak Spanish everyday. I learned that Granada was a smaller, student-centered town with a rich history and great nightlife. I decided that since this was my first time living in another country so far away from home, I wouldn't feel so lost and alone if I chose a smaller town with a large student population. I made two trips to visit Barcelona while I studied in Spain and was able to experience its excitement while returning home to a smaller city that was more comfortable for me. By being open minded and eventually exploring a less well known Spanish city, I found the perfect place to call home while studying abroad.

I would encourage anyone researching their study abroad options to look at smaller towns. The exciting, romantic images of Paris, London, Sidney or Tokyo may draw you to a particular country, don't let it stop you from taking a look at less well know cities like Lyon, Leeds, Adelaide or Sendai to see if they may be a better fit. By being open minded, you may find a place you had never considered to be the perfect fit for your time abroad.
by Mary Morris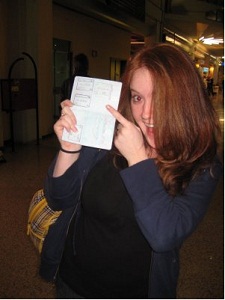 This is no ordinary Top 10 list. I could easily create a list of 10 wonderful and recognizably British places to go and sights to see in the UK, including; the Changing of the Guard at Buckingham Palace, a trip to Stonehenge, or a ride on the London Eye. While these are "can't miss" opportunities, this list (in no particular order) is more adventurous, eccentric and not for the faint-of-heart.
1. Chippy Lane
Cardiff is the capital city and the top tourist destination in Wales. After a smashing night out follow the locals down to Caroline Street for a late-night (or early-morning) snack. The pedestrian street, commonly known as Chippy Lane, boasts a lively late-night atmosphere and a variety of takeaways. If you're daring, try the chips smothered in curry sauce. It's a treat you can't miss.
2. The Eden Project
These aren't your parent's biomes. Located in Cornwall, the Eden Project was developed to learn more about the planets, plants, and people. Working towards sustainability and education, the Eden Project also hosts many unique visitor attractions, such as; the Global Garden Party and the Eden Ale Festival. Most notably, for the music lovers out there, the biomes also act as the perfect setting for the Eden Sessions, having hosted such musical acts as Amy Winehouse, Lily Allen, and Oasis.
3. Hogmanay
Hogmanay is the Scottish New Year celebration and there's no better place to partake in the festivities than Edinburgh, ask any Scot. An integral part of the Hogmanay partying, which continues very much today, is to welcome friends and strangers, with warm hospitality and of course a kiss to wish everyone a Guid New Year. The underlying belief is to clear out the vestiges of the old year, have a clean break and welcome in a young, New Year on a happy note. So expect a very warm welcome during the four-day celebration of events, music, dance, street theatre and crowds from across the globe!
4. The Lake District
The Lake District is the largest National Park in England and is home to the country's highest mountain, Scafell Pike, and largest lake, Windermere. The Lake District offers beautiful views of mountain rages and U-shaped valleys that are the result of periods of glaciation. The park is the perfect place to explore British wilderness and have amazing outdoor adventures.
5. Portmeirion
Want to see the Mediterranean but can't quite make it there? Head to the northwestern shores of Wales and you'll be surprised by what you find. The village of Portmeirion incorporates Italian architecture and art throughout. The colorful buildings and ornate design is definitely not what you would expect to find in Wales.
6. Brighton Beach
A favorite of both locals and tourists alike, Brighton Beach is the most popular beach in England. Along with its wild nightlife along the shoreline, Brighton is also very well known for its Pride Festival. Pride promotes equality and diversity in an effort to educate and eliminate discrimination against the LGBT community while also promoting fun with a week of events including a carnival and parade! If you can't make it to Pride, don't miss Brighton's North Laine, with narrow streets and tons of shops, restaurants and pubs, this is a must see for the spirit of Brighton.
7. The Giant's Causeway
Looking to explore a natural wonder of the world? Then there's no better place than Northern Ireland's Giant's Causeway. The area consists of approximately 40,000 (mostly) hexagonal basalt columns, the result of an ancient volcanic eruption. The UNESCO World Heritage site has been thought to be the work of giants through the fantastic legend of Finn McCool.
8. Festivals!!!
There are numerous music festivals crossing a wide variety of genres and spread out throughout the UK. Many of these festivals are world-renowned and have occurred for a number of years. If you think Sun God's a blast then don't hesitate to check out the Glastonbury festival. Be one of the nearly 200,000 people to camp out, enjoy the eclectic line-up of over 700 performances, and bask in the English sun.
9. The Isles of Scilly
For a taste of "the good life" journey to the Isles of Scilly for a relaxing retreat. The Isles of Scilly, located off the coast of Cornwall, encompass about 55 islands, 5 of which are inhabited. If you're looking for something a little more exotic, visit the island of Tresco, the home of the Tresco Abbey Gardens. Because of the mild winter climate, the long hours of summer sunshine, and the high walls and hedges around the garden protecting it from the Atlantic winds, the garden is home to exotic plants from all over the world: the Mediterranean, South America, South Africa and Australasia.
10. Camden Town
A trip to the UK is not complete without a visit to one of its most vibrant cities, London. While in London hop on the tube and head over to Camden Town, famous for its avant-garde fashion designers, cutting edge musicians, talented artists and craftsmen, exciting clubs and music venues. Don't forget to stop by the very affordable Camden Markets to shop, eat cuisine from all over the world, or just soak up the lively atmosphere.