Contact Us @ Study Abroad
Study Abroad is on Library Walk! Visit our front desk at our new location, University Center 214, (across from the Career Center & next door to Center Hall). *

Front desk services

 only. 

Advising sessions will remain remote

.

Contact Information for Students:
Virtual Front Desk
Spring Quarter Hours* (Pacific Standard Time):
Mondays - Thursdays 9:00am - 7:00pm

Fridays 9:00am - 1:00pm
Visit our Virtual Front Desk to schedule an appointment (up to 30 minutes) with an advisor or to ask a peer advisor a general question. *Hours subject to change.
Virtual Drop-In Advising
Spring Quarter Drop-In Hours* (Pacific Standard Time):
Monday 1:00 pm - 2:30 pm
Thursday 2:00 pm - 3:30 pm
Quick question (up to 15 minutes)? Sign-in for Drop-In Advising via the "Meet with Advisor" tab in the Virtual Advising Center (VAC). Watch: How to sign-in through VAC. *Note: Must sign in at least 15 minutes before the end of the advising period.
Contact information for campus partners, program providers, families, and visitors:
Mailing Address
Study Abroad UC San Diego
9500 Gilman Drive #0095
La Jolla, California 92093-0095
Study Abroad staff hold administrative offices on campus, though please note: All student advising currently continues to be virtual/remote. All student interaction should be via our Front Desk on Library Walk, University Center 214.
Study Abroad UC San Diego administrative offices are located within UCtr 409, suite 120, on the east side of Matthews Quad.
Matthews Quad
UCtr 409, Suite 120
Find the location here
UC San Diego and UC Emergency Phone Numbers
Please use these phone numbers only in a true health or safety-related emergency:
UC San Diego Police 24-hour emergency number: (858) 534-HELP (4357)
The UCSD Police have a contact list to reach the Global Education leadership in the event of an after-hours emergency abroad.
UC Education Abroad Program emergency 24/7 phone number: (805) 893-4762
UC San Diego Emergency Status
Online Emergency Status at UC San Diego (includes current updated status, phone numbers, and links)
Important Links & Resources:
UC San Diego continues to experience immense growth and change, which has greatly impacted the campus. You are recommended to make prior arrangements to meet with Study Abroad staff before coming to campus.
Driving Directions
Study Abroad UC San Diego is most easily reached by exiting onto La Jolla Village Drive from I-5, whether approaching UC San Diego from the north or the south.
From Interstate-5, exit on La Jolla Village Drive West.
Proceed to the first light at the bottom of the hill and turn right onto Villa La Jolla Drive
Turn left onto Gilman Drive
At the first stoplight, turn right onto Russell Lane
Note: By Appointment Only. Study Abroad UC San Diego is within UCtr 409, suite 120, on the east side of Matthews Quad.
Parking Information
The Gilman Parking Structure has visitor spaces (marked "V") available for parking by the hour, and is located on Gilman Drive and Russell Lane. Use the pay stations located on each floor to purchase your permit.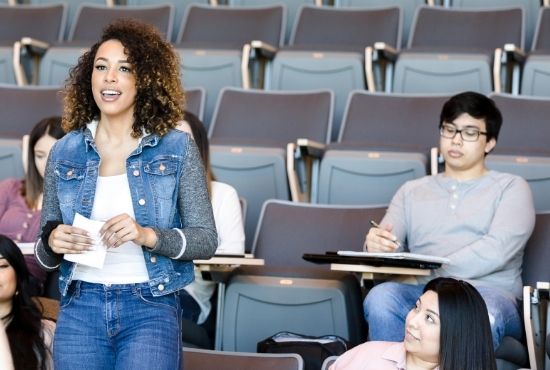 Request a Speaker
Invite Study Abroad to be a part of your next event or class! Whether it is presenting an overview of Study Abroad (First Steps) or tabling at your orientation or fair, Study Abroad looks forward to working with your students!