Program Partners

Welcome affiliated program partners!
Affiliated program partners, represented under our Opportunities Abroad Program (OAP), offer alternative and diverse study abroad locations and disciplines that are not always available through UC options.
Explore all of our OAP program affiliates here: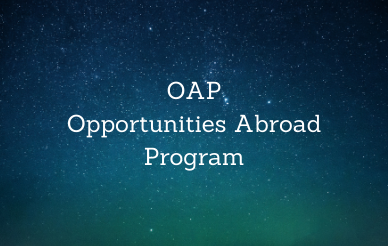 OAP: Opportunities Abroad Program
Non-UC based programs. Earn Transfer units to apply toward your academic requirements. Wide choice of options and price points.
Expo Information
---
EXPO 2022 Info
Date: Monday, October 17, 2022
Time: 10:00am – 2:00pm
Location of Fair: Town Square, UC San Diego
Notice: Due to the evolving Covid pandemic, Expo 2022 will be held outdoors, scaled-down in size, and by invite only. We apolgize in advance to any of our non-invited guests, and hope you can arrange another time to visit our campus soon.
Make Arrangements Early
First — and most importantly — contact Opportunities Abroad Program Director Jim Galvin and OAP coordinator Sheri Liebovich as far in advance as possible to schedule a visit.
If you contact us at least four weeks before the beginning of each quarter (see UCSD academic calendar), we can include your information on our Google Calendar.
---
Contacting Faculty
It is very important that program representatives do not contact faculty, staff or TAs directly, either for meetings or classroom visits.
All contacts with UC San Diego faculty, staff or TAs regarding programs abroad must go through Study Abroad UC San Diego. This is to insure that we maintain a positive relationship with faculty and staff on the campus while respecting their busy schedules and agendas.
Failure to follow these procedures will preclude further access to UCSD students. Thank you in advance for your cooperation.
---
Which Days Are Best?
Tabling 
The best time to have a table on Library Walk is from

 

10 a.m. – 2 p.m., Monday through Thursday.
Info Sessions 
We can also help you arrange to do an information session. Please specify if you would like us to book a room.
---
Directions and Parking
Information on visiting campus and parking.
---
Stay in Touch
We ask that you keep in touch with us to let us know which UCSD students are considering or have been accepted to your program.
Learn how to submit a proposal to partner with us on a faculty-led program.
---
Available Locations
In December, approximately 18 months before the start of a program, the Global Seminars Selection Committee will send out a request to our affiliates and previous partners by e-mail for locations where you can support programs. We will only accept proposals from customized program providers with whom we have a previously established relationship. If you are interested in discussing a new affiliation agreement, please contact Jim Galvin, Director of Opportunities Abroad and Faculty Led Programs.
---
Faculty Proposals
UC San Diego faculty members submit their proposals to lead a program in one of the available locations in mid-April. By the end of May the Global Seminars Selection Committee will e-mail a request for bids to the providers that we previously determined were available to support programs in each location. The e-mail will include the relevant faculty proposals for your reference.
---
2023 Program Dates
The 2023 UC San Diego Global Seminars will take place during either Summer Session I or II. We can be a bit flexible with the start and end dates by one or two days on either side of this range, but we cannot compromise the need for five full weeks of instruction time.
Summer Session I:
Depart United States: Saturday, July 1
Arrive in host country: Sunday, July 2
Hold on-site orientation: Monday, July 3
First day of class: Monday, July 3 or Tuesday, July 4
Depart program location: Saturday, August 5
Summer Session II:
Depart United States: Saturday, August 5
Arrive in host country: Sunday, August 6
Hold on-site orientation: Monday, August 7
First day of class: Monday, August 7 or Tuesday, August 8
Depart program location: Saturday, September 9
---
Provider Proposal Guidelines
Please use these guidelines (PDF) to prepare a full proposal in Microsoft Word or Adobe PDF format. Once you have completed your full proposal document, please also enter the key details about your proposal into the Online Provider Proposal Form below. There will be an upload field at the end of the online Provider Form where you can attach your full proposal. This system will allow us to quickly compare key aspects of each proposal.
---
Provider Proposal Form
The deadline to submit the Online Provider Proposal Form for summer 2023 Global Seminars is Friday, July 15, 2022 for continuing programs and Monday, August 1, 2022 for new programs.
---
Master Services Agreement
If your proposal is selected, then the UC San Diego Purchasing Office will require your organization to sign a Master Services Agreement (view template). This document will be part of the Purchase Order. If you have signed a Master Services Agreement with UC San Diego in the past, you will not need to sign it again each year. Your organization will need to plan well ahead to give UC San Diego time to process invoices, including any deposits or down payments.