Remote Advising Services during COVID-19
Study Abroad UC San Diego continues to be vigilant in monitoring the progression of COVID-19 worldwide. Rest assured, students' health and well-being are always our top priorities. Our goal is to help keep students and members of our campus community informed and safe during this pandemic.
We are also dedicated to helping students plan for their future study abroad goals by working closely with our partners across the UC system and beyond to provide the most updated information about future program operations. Our advisors are ready to help students plan for their future study abroad goals.
How to Schedule a Virtual Advising appointment:
** Before scheduling an advising appointment, please watch or attend the First Steps video/Zoom webinar.
Virtual in-depth 1/2 hour meetings with an advisor are offered to help you plan for your study abroad experience.
Appointments are scheduled via VAC.
Provide: Three 1/2 hour time slots that you are available; your program & country of interest; if you have a preferred advisor.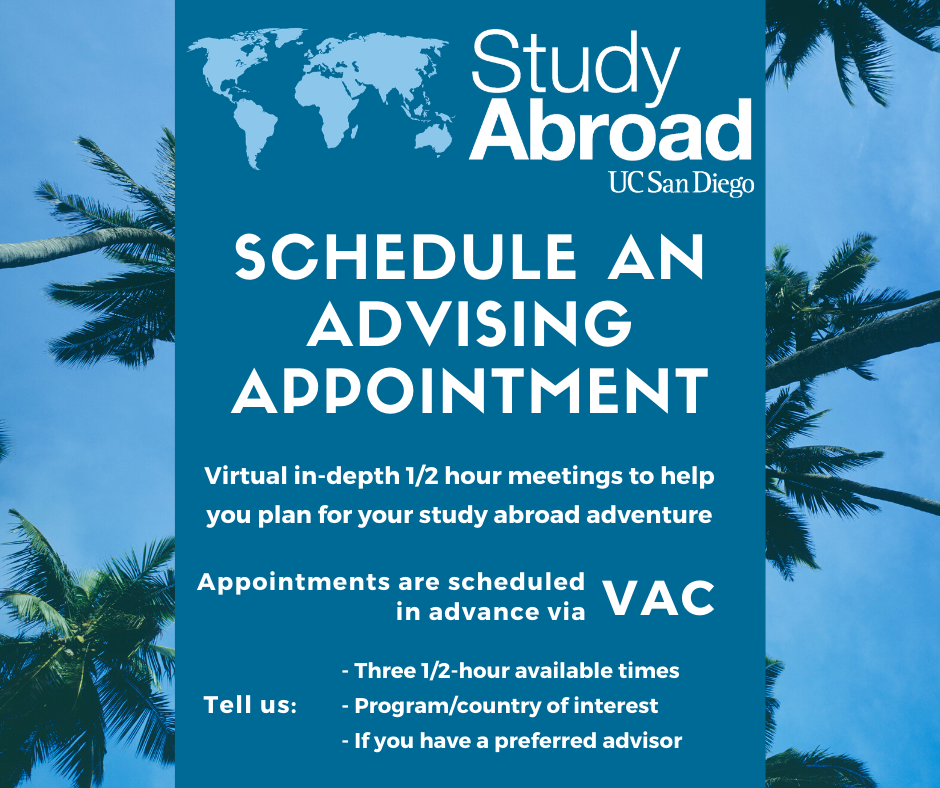 Major Advising Pages (MAPs)
 are available for all majors at UCSD. Find your MAP and use it as a guide in researching programs, selecting courses, and navigating the application process.
Are you an international student who is considering study abroad? Be sure to check out the International Students and Study Abroad information page:
*Important: International students in F and J visa status are encouraged to start preparing early if they are interested in studying abroad while at UC San Diego. It is recommended that you begin researching and applying for study abroad opportunities at least one year prior to your expected study abroad start date. Click on the link above to review all steps to understanding how studying abroad may affect your status.
The following are some important resources to help you in your study abroad planning.
Be sure to first watch the (4-minute) First Steps video or attend an in-person First Steps Zoom webinar before scheduling an appointment with an advisor.
First Steps video
(4 minutes) After watching, log in/create your profile on TritonsAbroad!
Study Abroad in Biology Webinar
Tune in to hear advisors explain how UCSD Biology majors can study abroad.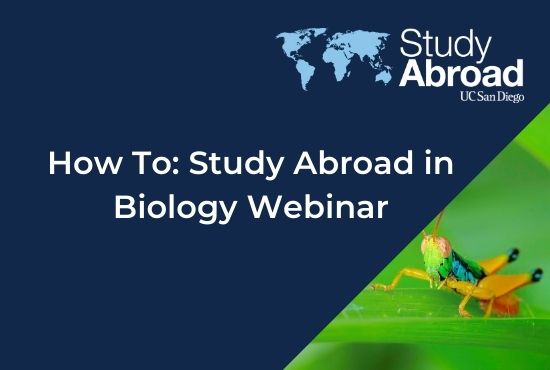 Study Abroad in STEM Webinar
Tips and tricks on how to navigate the study abroad program selection, application, and course petitioning process.