Study Abroad for Transfer Students

Study Abroad UC San Diego is committed to promoting access to Study Abroad for Transfer and Reentry students. Study Abroad can be a great way to explore your passions, advance your academic and personal plans, and enhance your resume and global credentials.
With advanced planning, Transfer and Reentry students can study abroad!
Transfer Tips
Research Early Start now to find programs that meet your timing/ calendar needs, as well as meet other requirements (e.g. academic, location, language, financial, etc.) 
Get Advised Meet with advisors from Study Abroad, Academic & College, Financial Aid, Transfer Hub, etc. to discuss your Study Abroad plans.
Carefully Review Confirm your program's eligibility/ application/ enrollment requirements. Learn program deadlines, and if needed, confirm whether any deadlines may be extended.
Get Support Discuss with your family, friends, mentors, etc. about your plans to study abroad.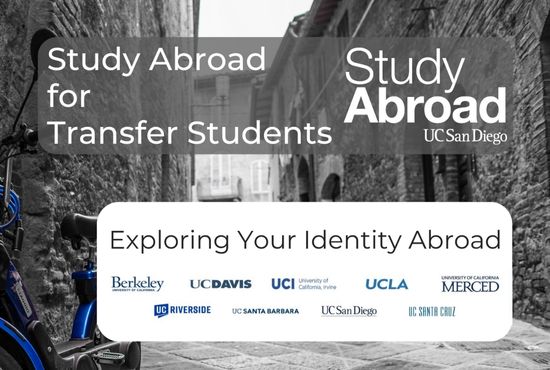 Study Abroad and Transfer Students
There are lots of opportunities for transfer students to study abroad. Enjoy this video to learn about the importance of advanced planning, steps you need to take to apply, financial aid considerations, and more.
Earn UC Credit Abroad
Study Abroad Programs Offering UC Credit:
UCEAP = UC Credit/Summer, Quarter Options
Global Seminars = UC San Diego Credit/Summer Options
Other UC Campus Programs = UC Credit/Summer, Quarter Options
Satisfy Your UCSD-specific Requirement Through A Global Seminar
Transfer students look to Global Seminars to satisfy a range of their UC San Diego requirements, including certain programs that satisfy:
the DEI requirement

Revelle College Humanities

Sixth College CAT

ERC's MMW

etc.
Learn more about Global Seminars HERE.
Application Deadlines
Annual deadlines for upcoming summer programs:
Early Bird Deadline = February 1

R

egular Application Deadline = March 1
Learn More About Global Seminars HERE.
UCEAP application deadlines:
6-12 months* in advance of the program.
*For Transfer students, this means you should start planning soon!
Learn more about UCEAP programs HERE.
Having a confirmed UC GPA is a stated requirement for some programs at UCEAP.
If you haven't yet earned a UC GPA at the time of application, for certain programs you may be able to use your Transfer GPA in lieu of a UC GPA. (Once you receive a UC GPA, you will be then be required to meet and maintain the required program minimum during the time leading up to your departure.)
Discuss with your Study Abroad advisor about your program's requirements!
UCEAP Application Deadlines
A list of UCEAP application deadlines for current-cycle programs.
UCEAP Frequently Asked Questions
Have a question about UCEAP? We have the answer. Check out our most frequently asked questions.
Major Advising Pages
Major Advising Pages (MAPs) are available for all majors at UC San Diego. Find your MAP and use it as a guide in researching programs, selecting courses, and navigating the application process.
Reentry Students & Students With Dependents
Students who are parents may wonder how they will care for their dependent/s while abroad. Study Abroad is possible and just as rewarding with a family, but there are considerations that you should keep in mind. Careful planning can create an experience abroad that will benefit you and your family.
Do I have work, home, and/or family obligations that prevent me from studying abroad for an extended period of time?
Will there be other adult students in my program?
How old are the other students participating in my program?
How do people in my host country view adult students?
What skills do I want to gain or improve while I'm abroad?
Look into short term programs if you cannot afford to spend an extended period of time away from your family and can't take too much time off work.
Talk with other adult students who have studied abroad.
Sometimes you might feel that you don't fit in, but remember not to isolate yourself from the rest of the group. Get to know the others and let them get to know you.
Research what people close to you age in the country you will be studying in and the areas they may live. For example, do they work? Take care of their children and/or parents? Live alone or with extended family?
Location
Are there programs in the location I want to go that are accommodating to families or dependents?
Weather
What will the weather be like during my study abroad or away?

 What weather-appropriate gear should I pack or buy for my family members or dependents? 
Activities
What extracurricular activities will be expected of me during my study abroad or away program? 

Can my family or dependents come along with me on these extra activities?

How might these activities affect time with my family or dependents?
Medications
Is the medication I need to support my family, dependents, or myself legal in my study abroad or away destination?

What are the protocols and paperwork needed to have this medication taken with me? 

What do I need to have my doctor or health care provider prescribe me with enough medication to last me for my study abroad or away program? 

What are my options if I need more of the same medication for me or my family or dependents? 

Where and how should I pack this medication?
Identities
How might my identity as a student with a family or dependents be perceived while away? 

How might this affect my everyday interactions with others? 
Dietary Needs
What are the dietary norms in my study abroad or away location? 

If my family,  dependents or I have particular dietary restrictions or needs, how will that be perceived and supported?

Will I have access to the foods I need in order to sustain the dietary needs of my family, dependents, or myself?
Cultural Differences
How will my family be perceived and received in my study abroad or away location?

What are some cultural differences concerning family life that I should be made aware of? 
Housing 
Will I be placed in a housing situation that will meet my accommodation needs? 

Will I be allowed to find my own housing situation? If so, will I have assistance searching for housing?
Host Institution 
Will the host institution offer my accommodation needs for my family or dependents, such as daycare, for example? 

What are the protocols and paperwork needed to have staff and professors recognize my accommodation needs?

Are there any organizations or clubs or resources as to where I can find community with other students with families or dependents? 
Costs of additional accommodations and support
How will my financial aid packaging accommodate these additional costs, or are they expected to be paid out of pocket?

Are there additional resources such as aid, grants, or scholarships I should look into to help fund these additional costs? 
(borrowed from UCSC's Global Learning)
If your desired program allows for dependents, here are some questions to consider:
Can your program provide housing options to accommodate your family? What are the off-campus housing options?
Are you traveling abroad with a spouse or partner that will be able to care for your child while you are in class? If not, what childcare options are available at your host university or in your host city that will work for your budget?
Do you have family members in school? What educational options will exist for them to continue their educations while you are abroad?
Be aware of extra costs that are associated with traveling with children. These include international health insurance, visas, immunizations, and flight tickets for the entire family. Some items may be covered by your program for you, but not for your child(ren) or family.
If you are a student with a dependent and want to study abroad, meet with a Study Abroad Advisor - we can help you navigate the application and selection process and get your questions answered. Learn how to get advised through our
Advising Services
page.